Biography
Vidya Gastaldon graduated from the École des beaux-arts in Grenoble in 1997 and moved to Geneva the same year. Born in Besançon in 1974, she became attuned to diverse forms of spirituality at a young age – her parents lived in a commune and practiced meditation – and this led her to pursue yoga at the same time as her art, and to take an interest in such fields as geobiology and quantum medicine.
From 1994 to 2001 she collaborated with Jean-Michel Wicker. Her work has been regularly exhibited since the late 1990s, initially as a duo and then on her own, notably at Mamco, Geneva (2005), at the Swiss Institute in New York (2007) and at the Domaine de Kerguéhennec (France, 2009). It is also shown by galleries in New York, Paris, Tokyo and Zurich. She won the Federal Art Prize in 2005 and 2006.
About the artworks
In 2012, Gastaldon's exhibition at Mamco in Geneva, "Tu es monstrueux et je t'aime beaucoup", had only just closed when a group show featuring her work, "Les Étincelles de Meret", opened at the Kunstmuseum Bern. There it was presented as one of the contemporary ramifications of Surrealism, which emerged not much less than a century ago in Paris. The main installation at Mamco was dominated by a three-dimensional eye made up of woolen hair stretched out into a spider's web, a bloody mesh or a spatial drawing evoking a snare for dreams. Also on view were sculptures, ceramics and paintings – where psychedelic power tied together sacred knowledge from the Orient, echoes of Surrealism and popular culture with a strong comic-book element.
Between the familiar and the strange, the spiritual and the trivial, shadow and light, surrounded by cyclopean gazes, her world is founded on the unconscious and dreams. Reassuring, threatening, dark and friendly creatures are generated by the existing forms of a world full of cumulus clouds. Vidya Gastaldon produces hallucinogenic art and may on occasion take the risk of transposing into three dimensions the subtleties that appeared first in her watercolors. Her bewitching world is populated with surreal visions taken as much from animation films as they are from esoteric fantasies, and as much from Christian divinities as they are from Hindu sacred manuscripts. In short, perhaps what she is trying to reveal is the "that" evoked by the Indian philosopher Krishnamurti: "The inspiration must not be from the self. Beauty is total self-abandonment and with total absence of the self there is 'that'."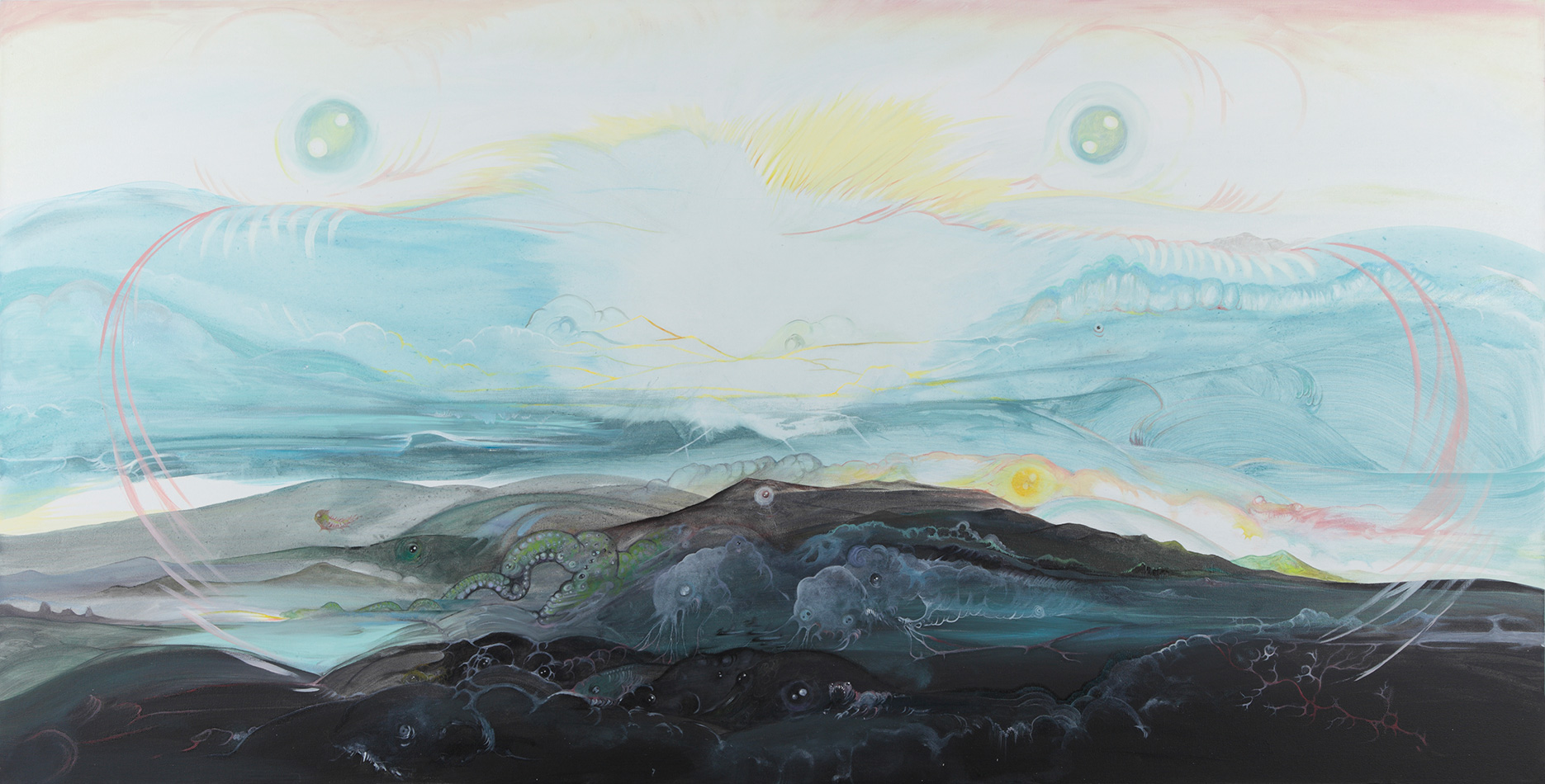 The Anonymous Power, 2011
Mixed media, acrylic and oil on canvas
80 x 160 cm
Collection of contemporary art