Brazil
Marlon
de Azambuja
Biography
Born in Porto Alegre in 1978, the Brazilian artist Marlon de Azambuja now lives and works in Madrid. Trained in Brazil at the Edilson Viriato Center for Contemporary Art in Curitiba, he has already had numerous solo shows, mainly in Spain and Latin America, at a number of major venues, including Galería Max Estrella in Madrid (2014); CAAM (Atlantic Center of Modern Art) in Las Palmas de Gran Canaria (2011); Casal Solleric in Palma de Mallorca (2010); and Matadero in Madrid (2009).
He has also taken part in several biennials (Havana, 2012; Cuenca, Ecuador, 2011; Porto Alegre, Brazil, 2011; Cairo, 2010), and his work is hanging in a number of important museums, including the Museum of Contemporary Art of Paraná, the Oscar Niemeyer Museum in Curitiba, Itaú Cultural São Paulo, the Centro Atlántico de Arte Moderno, Las Palmas de Gran Canaria, and the Nomas Foundation in Rome.
About the artworks
Marlon de Azambuja is interested in architecture. Even though his work is based on photographs, drawings, installations, sculptures, performances, and collages, a commentary on the built world always emerges. With the idea of understanding our cities, he invents new ways of observing our immediate environment, sometimes with humor and poetry, but often following a well-established protocol. For example, it is with some of the basic elements making up the world of construction – bricks, a vise – that he built a brutalist city in the form of an installation; or by drawing on the industrial design of our cities that he created temporary sculptures in the public sphere with adhesive paper, annihilating the function of benches, bus shelters, and streetlamps. At other times, he employs scotch tape to point up the lines that naturally form on the ground. Compiled in series, the photographs documenting his urban interventions suggest geometrical equations governing the idea of a possible urban order – unless it is the opposite.
In Cooling Waters, the artist builds on the 20th-century history of art and architecture by blackening out the subjects of the famous photographs by the artists Bernd and Hilla Becher. Starting in the 1950s, the Bechers catalogued industrial constructions that were fated to disappear, such as water towers, factories, or grain silos. They were unfailingly photographed in the same light and with the same framing and technique to create typologies of these constructions, which underscore both their points in common and their differences. Azambuja heightens their outlines by blackening them out to emphasize metaphorically the evident prophesy of their disappearance.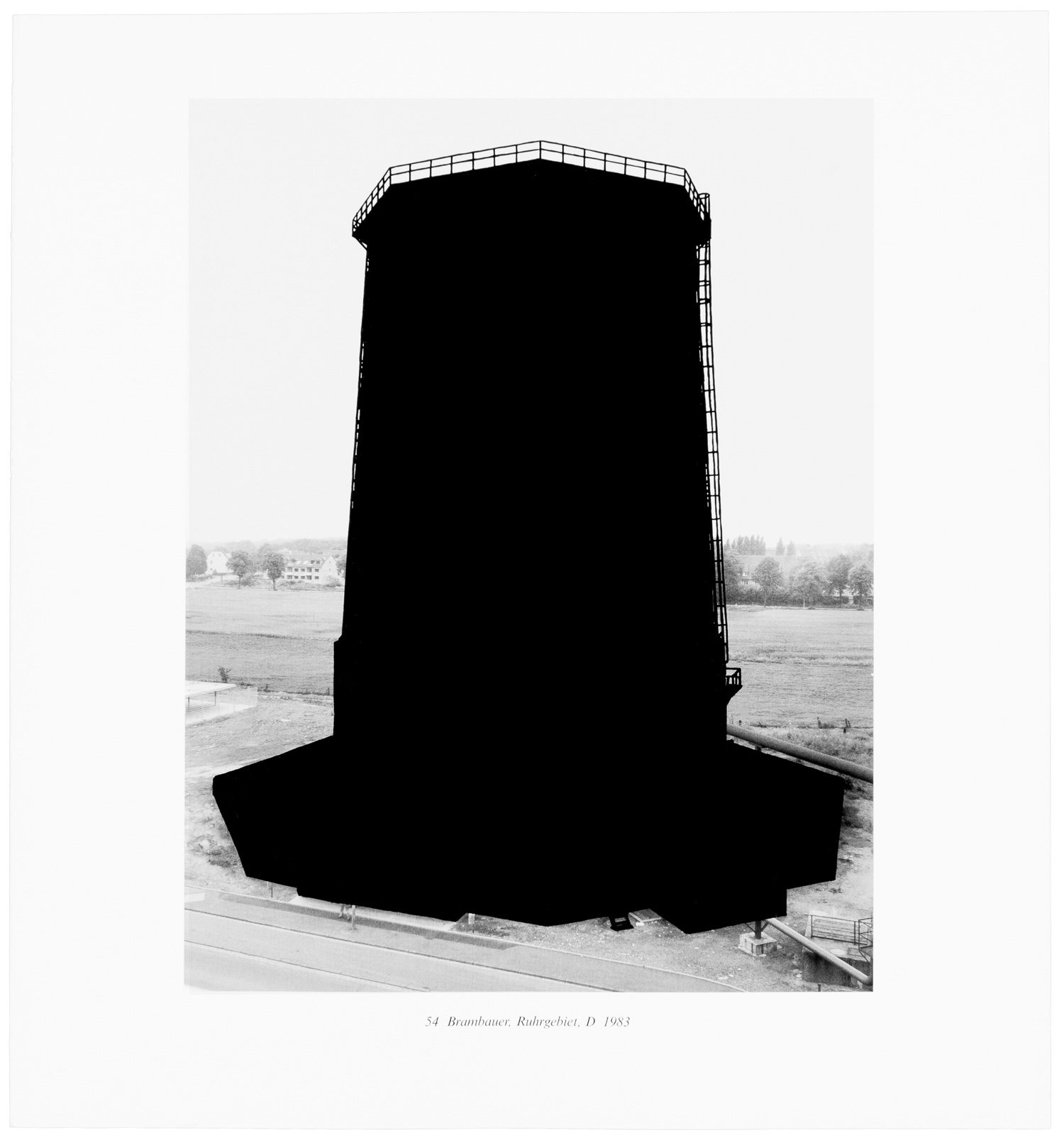 Cooling Towers, 2016
Black marker and book pagers
9 parts, each 28.8 x 22.7 cm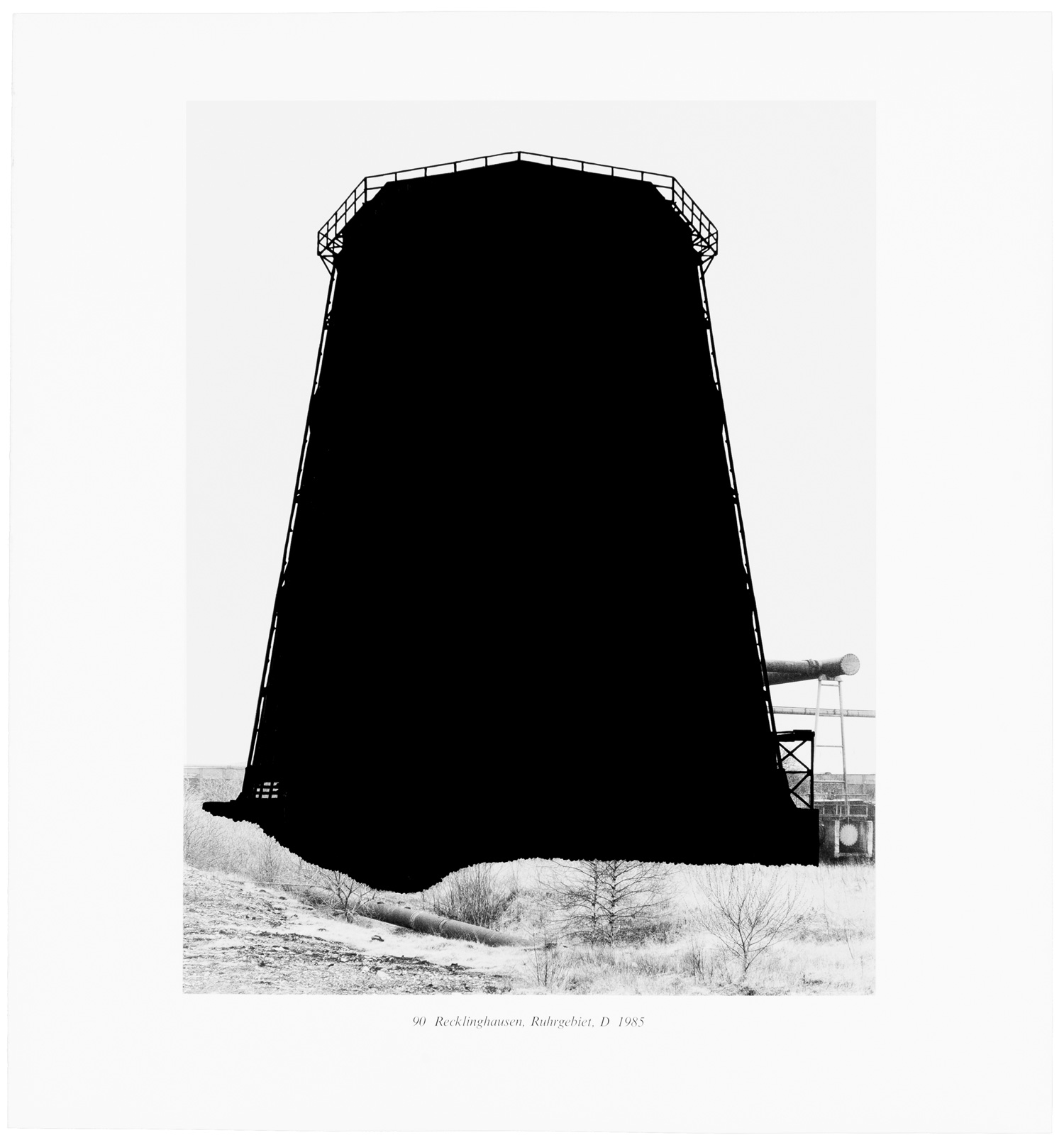 Cooling Towers, 2016
Black marker and book pagers
9 parts, each 28.8 x 22.7 cm
Cooling Towers, 2016
Black marker and book pagers
9 parts, each 28.8 x 22.7 cm
Collection of contemporary art