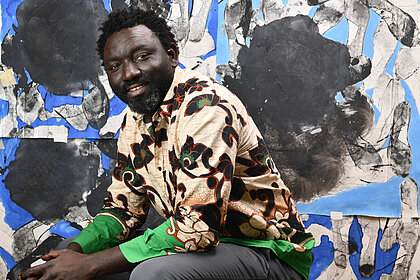 Biography
Omar Ba was born in Senegal in 1977. After an initial artistic training in his home country, he completed a postgraduate degree at the École Supérieure des Beaux-Arts in Geneva in 2005, continuing a few years later with a diploma at the École Cantonale d'Art Visuel du Valais, in Sierre, Switzerland. In 2010, his work was exhibited by Galerie Guy Bärtschi and a year later he won the Swiss Art Award. The year 2013 was a particularly eventful one for Omar Ba, with a major exhibition in Biel/Bienne, Switzerland, at the CentrePasquArt, which also showed his work in Liste 18, Art Basel, while he featured at the FIAC in Paris and was a guest of the Institut Français in Dakar, Senegal, for a residency and an exhibition.
A catalogue of his work came out in 2014. More recently, his works have been exhibited internationally in renowned institutions, such as at BOZAR in Brussels (2017) and at the Louis Vuitton Foundation in Paris (2017). Omar Ba lives and works between Dakar and Geneva.
About the artworks
Omar Ba's world is peopled with hybrid creatures that come before us hieratically in front of grounds that are usually black. Emerging from this darkness, coloured touches explode on the surface, revealing figures with hidden, mysterious faces, often those of a cow, hedgehog, fish, tiger, monkey, or other animal. These are the messengers invoked by the artist. They appear majestically on the dark surface, the black-painted base onto which he applies his colours. These works tell a story that seeks to erase the frontiers between Africa and Europe, past and present, good and bad. Usually painted on corrugated cardboard, a rough material that this artist favours, the compositions are full of precisely painted details, with medals, landscapes, leaves and other plants constituting a teeming repertoire amenable to different levels of interpretation. The artist's palette runs through a series of dazzling touches which, like embers, further heighten the dynamic of forms and compositions. In his art, African memories mingle with images of western experiences.
Modernity, in the form of pylons, trains and oil derricks sometimes take over these compositions in which nature seems weakened and fragile. The titles chosen by the artist also add an important layer of meaning, inscribing the works within a universal history of the world. Setting up connections, offering diverse readings, Ba's paintings transcend ancient cultural oppositions, allowing for multiple inputs of meaning. They deal with situations where it is impossible to tell apart killers, tyrants and victims. Duality also informs the analysis and artistic idea, while the richness of the artist's vocabulary creates visual surprises that people a unique artistic world. Based in Switzerland, Ba finds its neutral environment and splendid landscapes conducive to his powerful painting, as the vehicle of a universal message.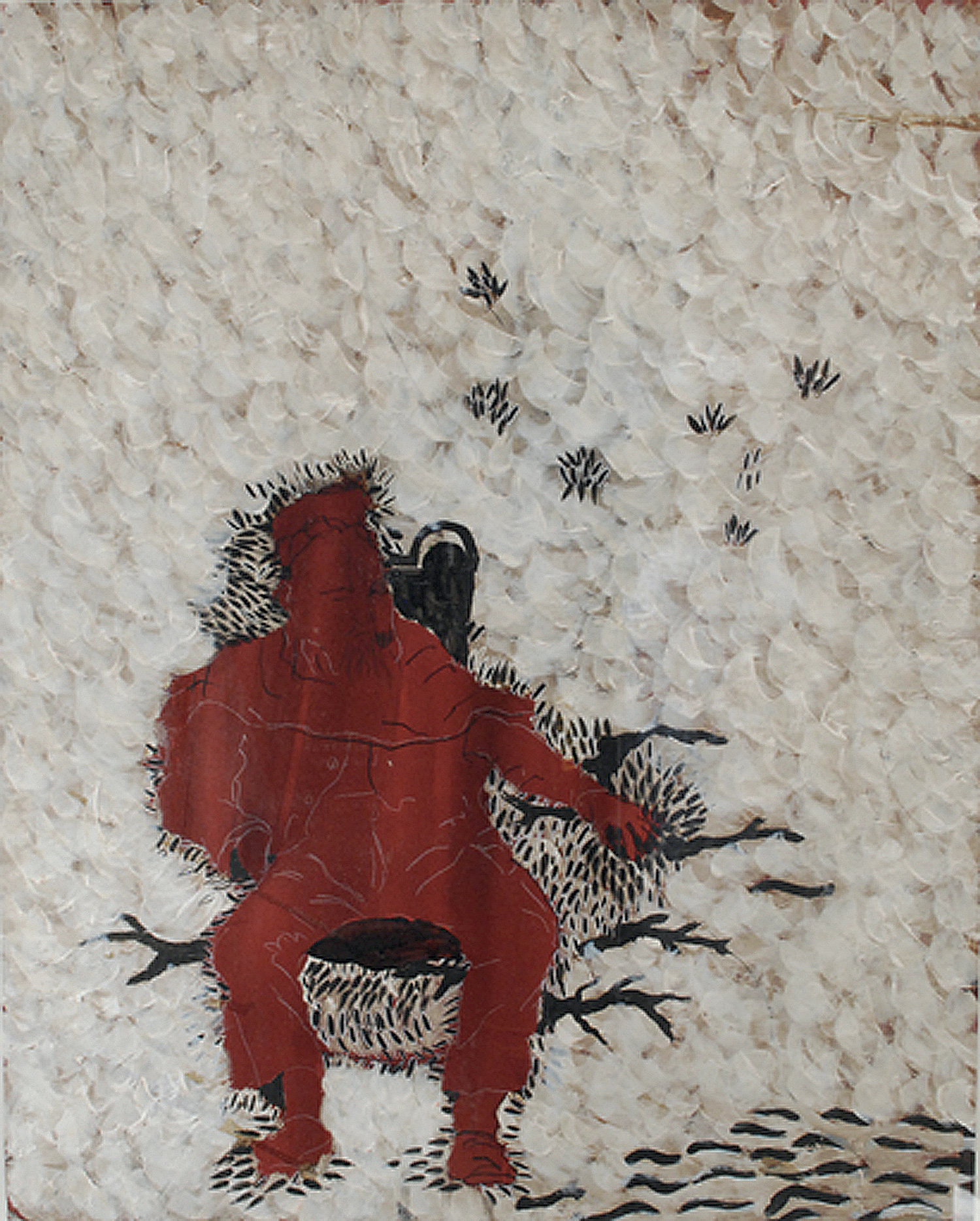 After a long wait 2, 2011
Oil, gouache and pencil on corrugated cardboard
49 x 39 cm
After a long wait 3, 2011
Oil, gouache and pencil on corrugated cardboard
49 x 39 cm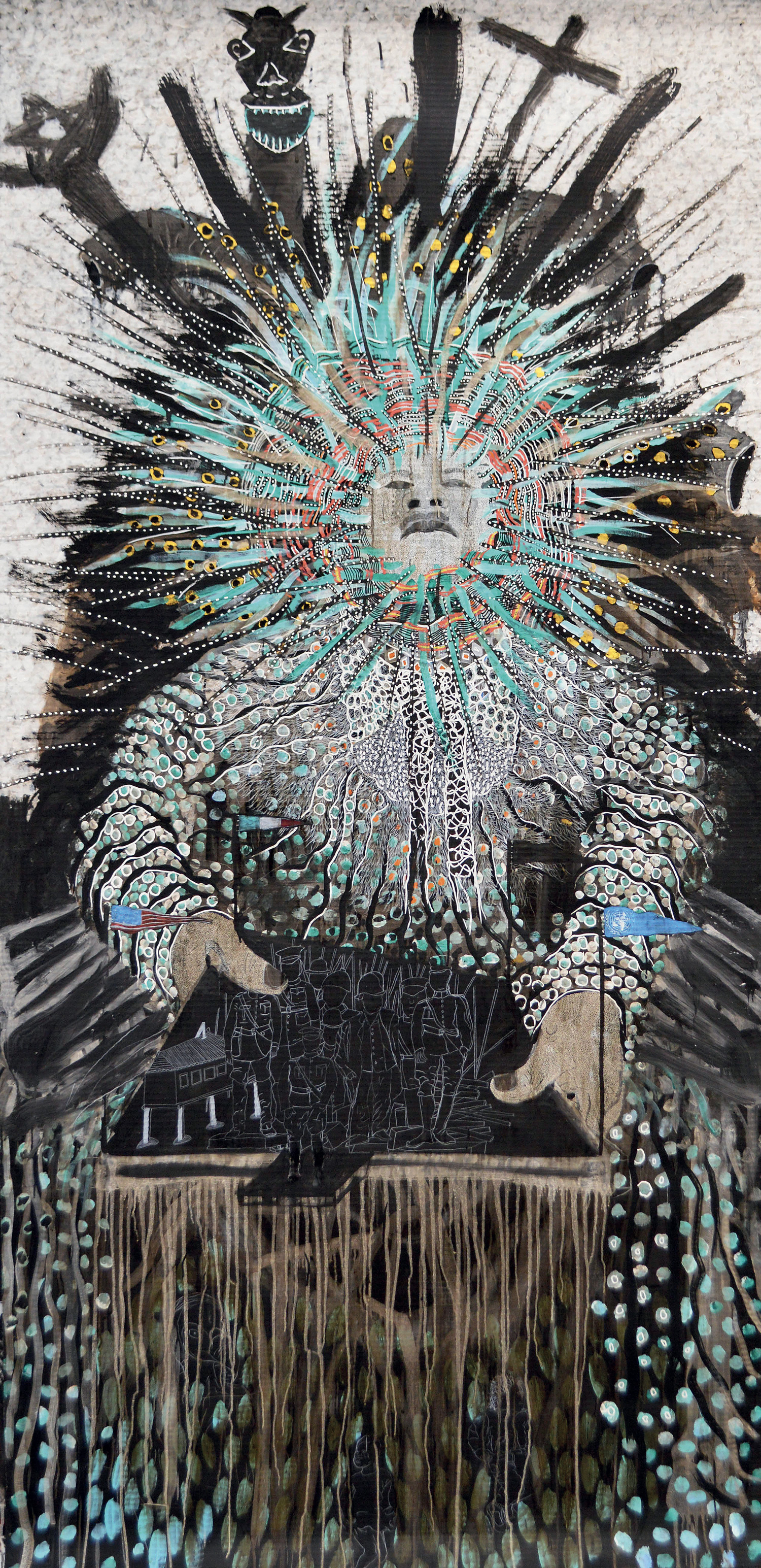 Conquistadors, 2013
Oil, acrylic, ink and pencil on corrugated cardboard
237 x 116 cm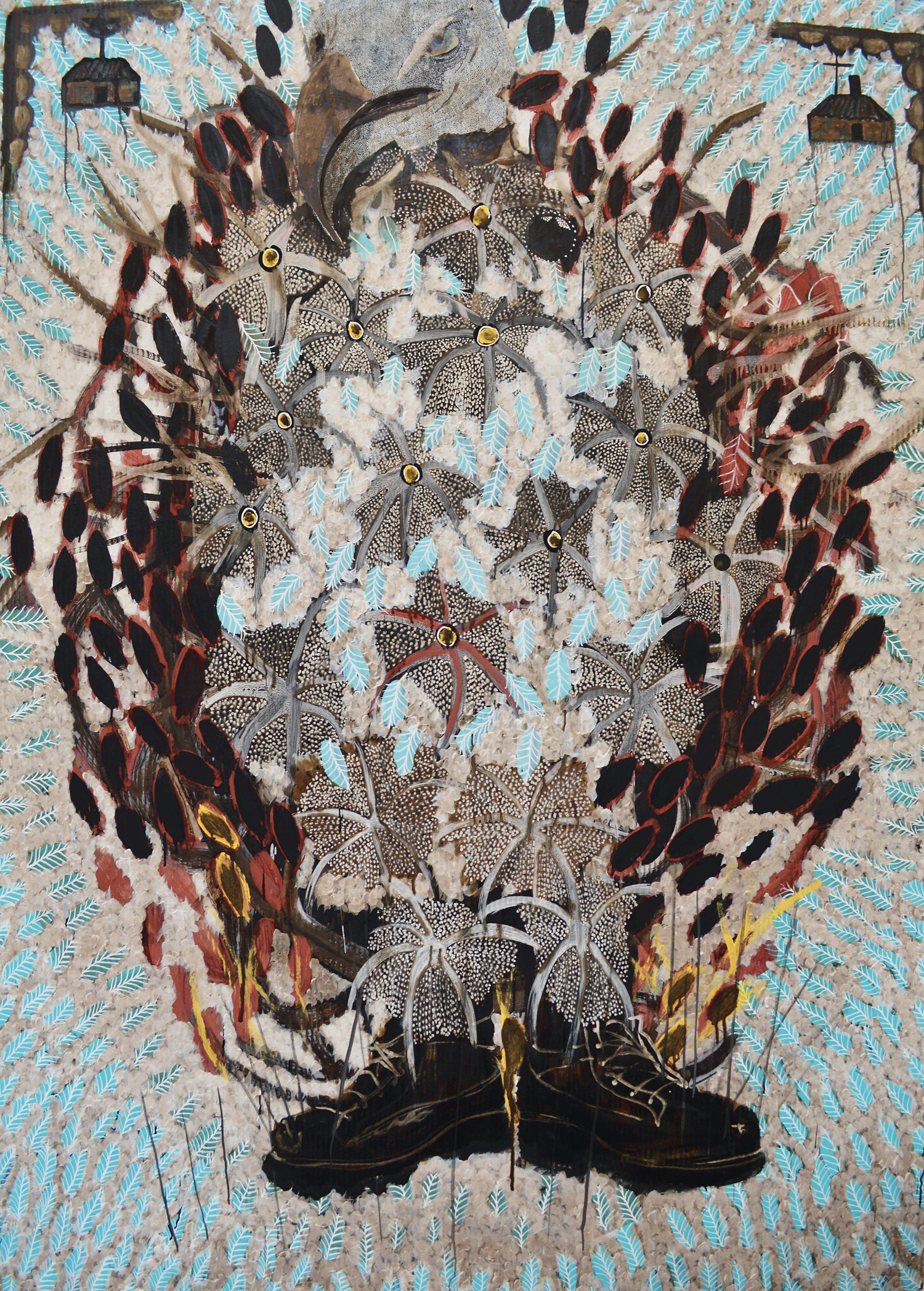 Opération Servale 1 – se servir, 2013
Oil, acrylic, ink and pencil on corrugated cardboard
199 x 151 cm
Collection of contemporary art