Switzerland
Tobias
Kaspar
Biography
Born in 1984 in Basel, Tobias Kaspar lives and works in Riga and Zurich. He studied art at the HFBK the University of Fine Arts in Hamburg and later in Frankfurt between 2005 and 2010, and very quickly took a number of prestigious awards, including the Förderpreis HFBK Hamburg in 2009 and the Swiss Art Awards in 2010 and 2013.
Kaspar was also selected for various residencies in the United States, France, Spain, and Italy. Solo shows featuring his work have been mounted at the KIM, Contemporary Art Center of Riga in Latvia (2017), the Swiss Institute in Rome, the Kunsthalle of St. Gallen in Switzerland, the Midway Contemporary Art Center of Minneapolis, and the Kunsthalle of Bern.
About the artworks
Tobias Kaspar seeks to understand how object, image, text, form, and content interact. His work has many facets, which elude any attempt at a synthesis, promising to push art well beyond its usual definition. While photography is a medium he regularly employs, he also works in video, installation, and sculpture. His use of fabrics and embroidery raises questions that are bound up with identity and the way we attempt to construct it in our Western societies. How are we supposed to behave today in the capitalist world? How, when, and in what circumstances can we find our own space at a time when everything looks the same, and globalization is taking over everything? Through his artmaking, Kaspar proposes one type of strategy for taking a stand as an artist and a citizen more generally.
Thus, with the fashion designer Joy Ahoulou, he created his own brand of jeans in 2012 and cofounded Provence with Hannes Loichinger in 2009, a magazine that comes out eight times a year. Three years after that, he opened Toby's Tristram Shandy Shop in Berlin and presented an installation and a performance at Art Basel Switzerland while also taking part in the Berlin Esoteric Fair. Finally, Kaspar recently designed the costumes for the ballet The Parade by the choreographer Adam Linder (2013). All these activities form a wonderfully varied art practice, the intention being to enter into dialogue with our world at a number of levels. The parallels he is able to draw between fashion and art demonstrate, for example, how the rules of one and the other coincide at numerous points, and how fashion courts the protagonists of contemporary art as both resources and targets at one and the same time.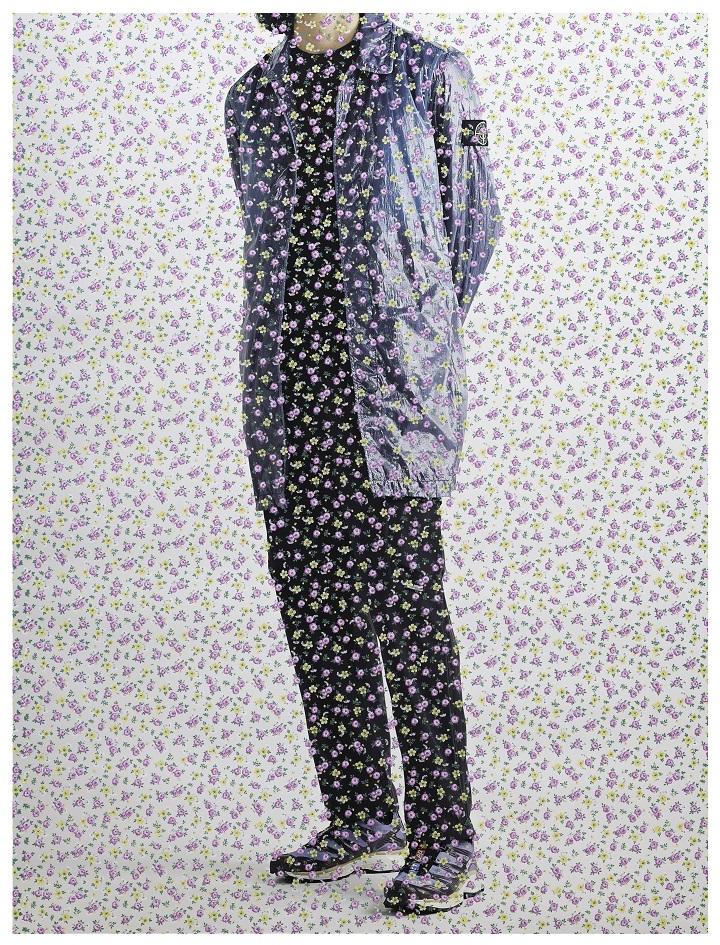 Mille Fleurs (Leif Randt), 2022
Acrylic paint, silkscreen and inkjet printing on primed cotton
184 x 139 cm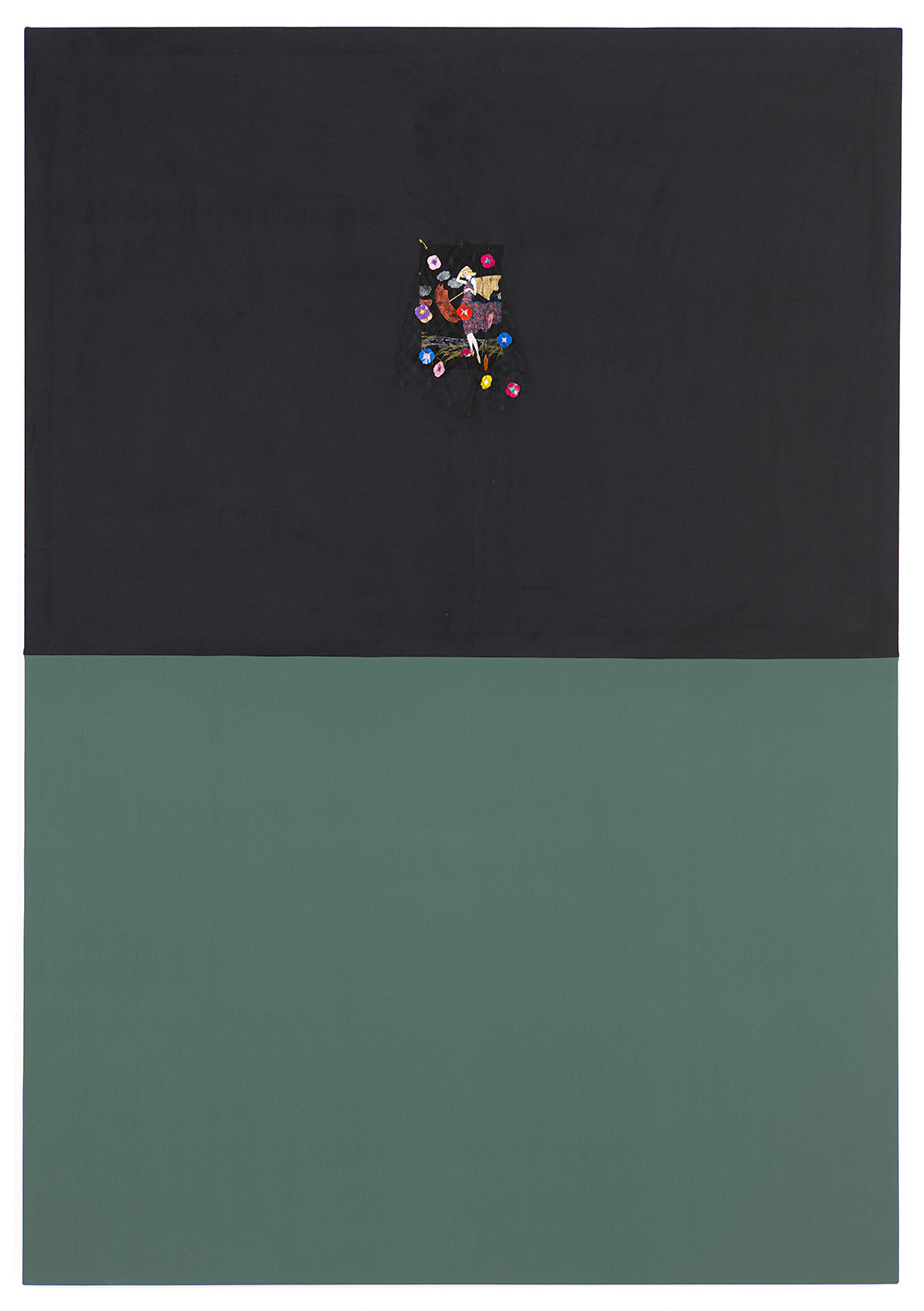 Untitled (NFS13 Green-Black Parapluie), 2018
Embroidery, fabric
220 x 140 cm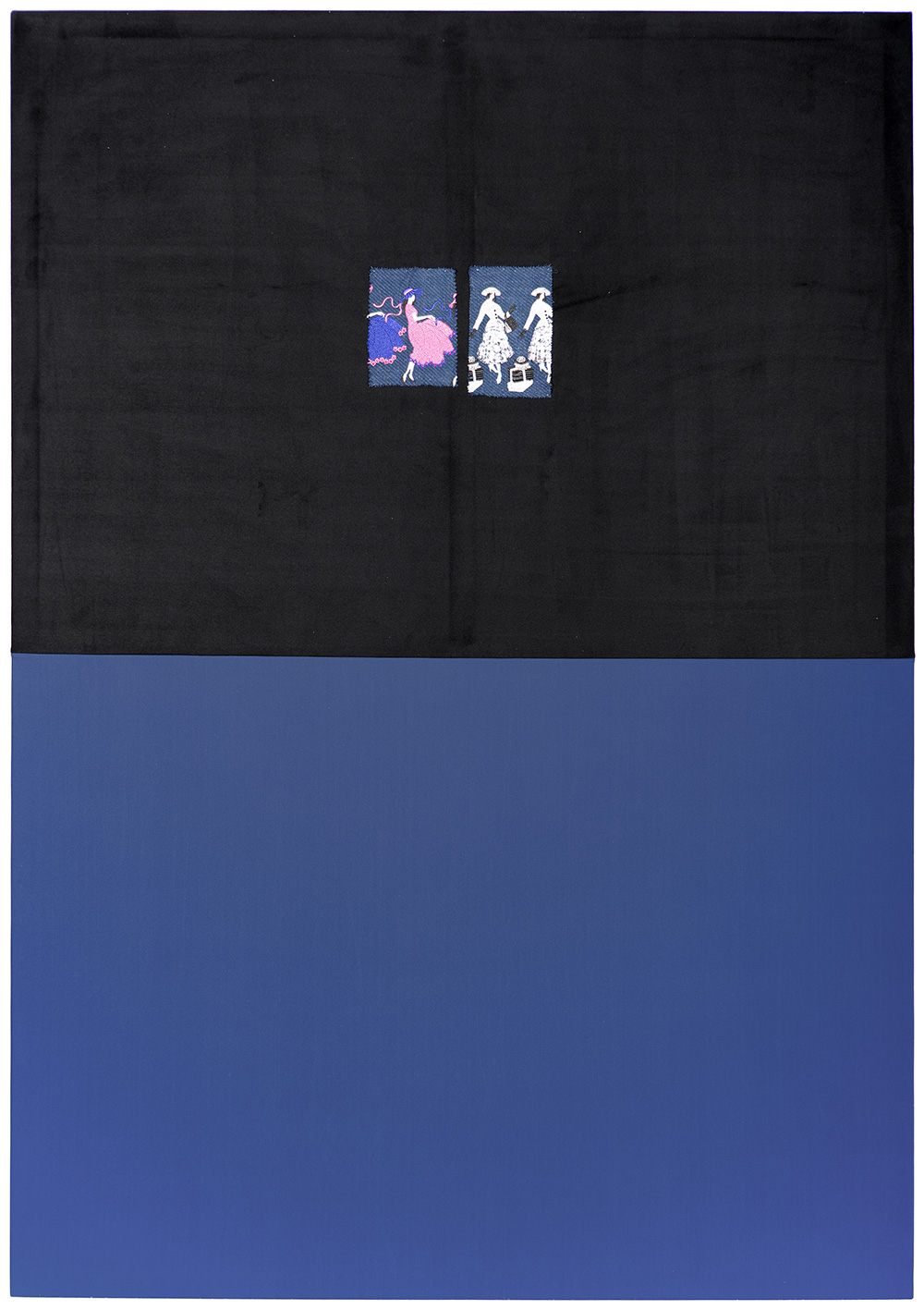 Untitled (NFS15-Blue-Black Embroidery), 2018
Embroidery, fabric 200 x 140 cm
Collection of contemporary art