Biography
Born in 1957, a graduate of the École des Beaux-Arts de Lausanne, in 1987 Alain Huck was actively involved in the founding of Espace M/2 in Vevey. This is an exhibition space that he manages with several artists such as Jean Crotti, Robert Ireland, Jean-Luc Manz, Christian Messerli and Catherine Monney, his companion at the time. As an alternative structure, M/2 became an essential hub of the young art scene, setting up more than forty exhibitions in four years and promoting practices that up to that point were still absent in the Lake Geneva region.
Alain Huck was subsequently the guest of the Swiss Institute in Rome from 1989 to 1990, and then of the Cité Internationale des Arts in Paris from 1997 to 1999. Among other distinctions, in 2013 he received the Grand Prix de la Fondation Vaudoise pour la Culture and the Pro Litteris prize. He has had numerous solo and group exhibitions and is represented by the Skopia Gallery in Geneva. He lives and works in Lausanne.
About the artworks
"I live in a world of images and I work with the images that exist," explains Alain Huck, who says he doesn't have enough imagination to create them ex nihilo. Although he sometimes expresses himself through photography, video or with objects, drawing is his primary language. Using volatile and smoky charcoal on mainly monumental formats - a combination that has earned him success since the early 2000s - his slow and meticulous work superimposes different levels of images that are created in several stages. The first step consists of a transfer onto the sheet, simply by projecting a photograph. In his compositions, it is clear that the human figure is most often absent, or only implicit, hinted, as a silhouette or ghostly form. Interweaving personal and collective memory, this artist from the canton of Vaud evokes the asphyxiating and tentacular complexity of the world, the great wounds of history and bloody tyrannies, but also the beauty and grandeur of human works and nature.
Working with texture and line, shadow, and light, which he calls "artisanal pixels," he makes his compositions "kaleidoscopes of reality," exaggerating certain aspects the better to convey the conflictual relationship that he maintains with the world, setting himself against the acceleration of current ways of life, playing on more or less blurred zones so that the viewer can find the path of a narrative. His drawings are conceived as supports for exchange - without that, he believes, it would all be meaningless.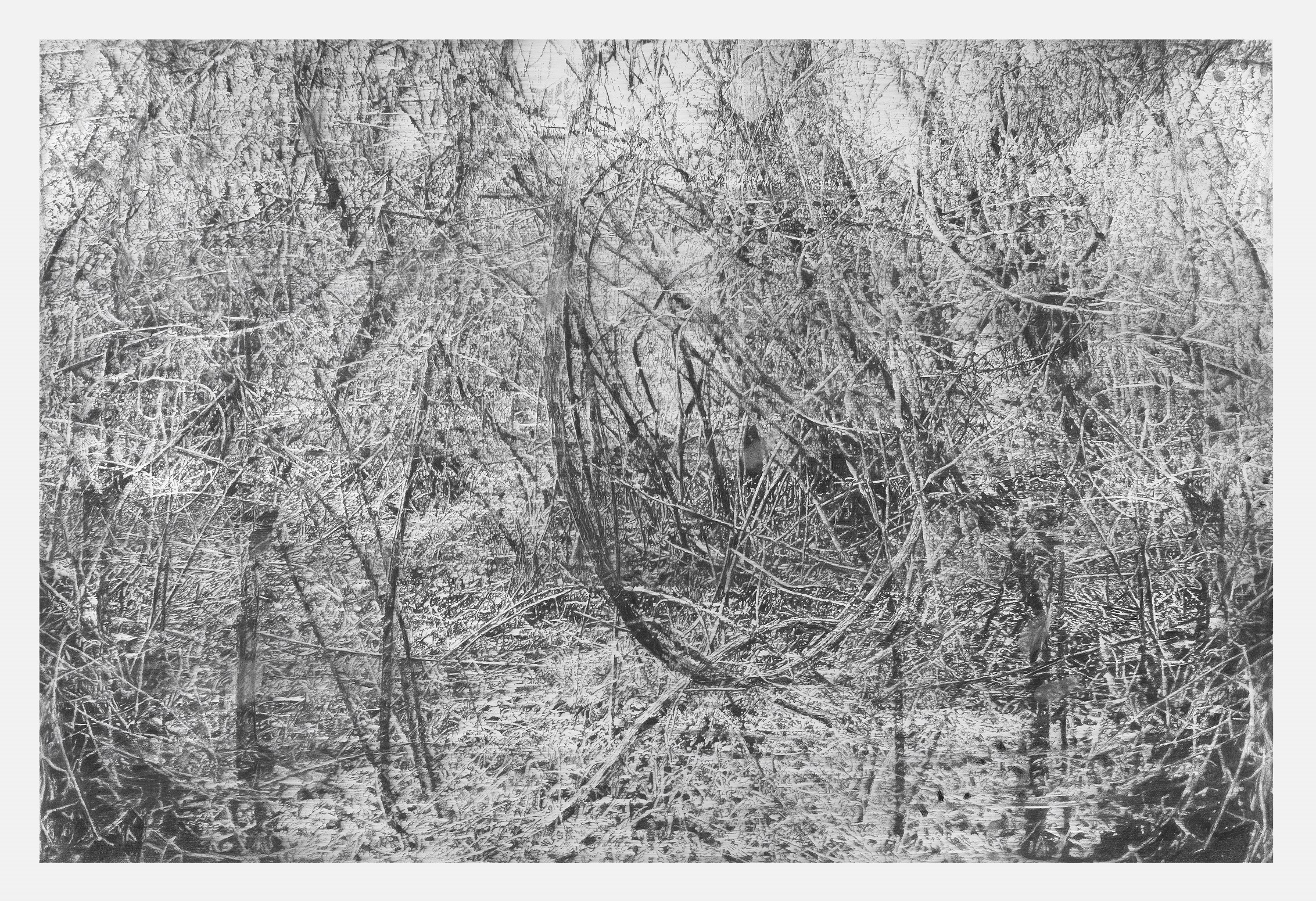 Ruta V, 2020
Charcoal on paper
151 x 220 cm
Collection of contemporary art