Biography
Born in 1956 in Santiago, Chile, Alfredo Jaar trained in architecture and cinema and produced his first works during the dictatorship. In 1981 he moved to New York, where he lives and works today. He calls himself a "project artist" because he applies the methods of an architect to large-scale artistic projects, and divides his time between producing works, public commissions and teaching (seminars, lectures). In 1986, he became internationally known when he participated in the Venice Biennale of Contemporary Art.
In addition to numerous exhibitions of his work in the United States (New Museum of Contemporary Art in New York, 1992; Museum of Contemporary Art in Chicago,1992) and in Europe (Pergamon Museum, Berlin, 1992; Whitechapel, London, 1992) he has taken part in several art biennials such as those of São Paulo (1987, 1989), Johannesburg (1997), Istanbul (1995), and Kwangju (1995, 2000), as well as at Documenta in Kassel (1987, 2002). He won the Hiroshima Art Prize in 2018 and the Hasselblad Award in 2020.
About the artworks
Personally deeply affected by the situation in his country, Alfredo Jaar quickly became interested in other events elsewhere in the world such as the famine in Sudan, the gold diggers in the Amazon, and the genocide in Rwanda. In response he developed a concept of art as a means of shaking off the indifference that surrounds such tragedies. For, without calling himself a political artist, it simply seemed impossible for him not to act: "Art is always political," he says. "One day in April 1994, I was reading the New York Times, and I saw, on page 7, five lines that said that 35,000 bodies were floating on Lake Kiguela. Five lines, can you believe it! Such indifference was so indecent that I had to go and express my solidarity. I took a crazy decision: I left as a volunteer with an NGO. And on the spot I started making work based on visual testimonies, interviews, films."
Without a precise plan, Jaar finally stayed a year on site, took 3,000 photographs and tried to find the right balance between art and politics in order to avoid the danger of the "pornography of violence." It took him six years to give shape to this work (The Rwanda Project, 1994–2000). It is always the project that ends up determining the artistic form and not the other way around. Whatever the medium chosen - photography, sculpture, installation, video, text - and its complexity, Jaar is careful to take the opposite view of the sensationalist account exploited by the media, and instead proposes a "freeze frame." Torture Must End Now is made up of candles, a symbol of prayer in all religions, a symbol of light in the dark periods of existence.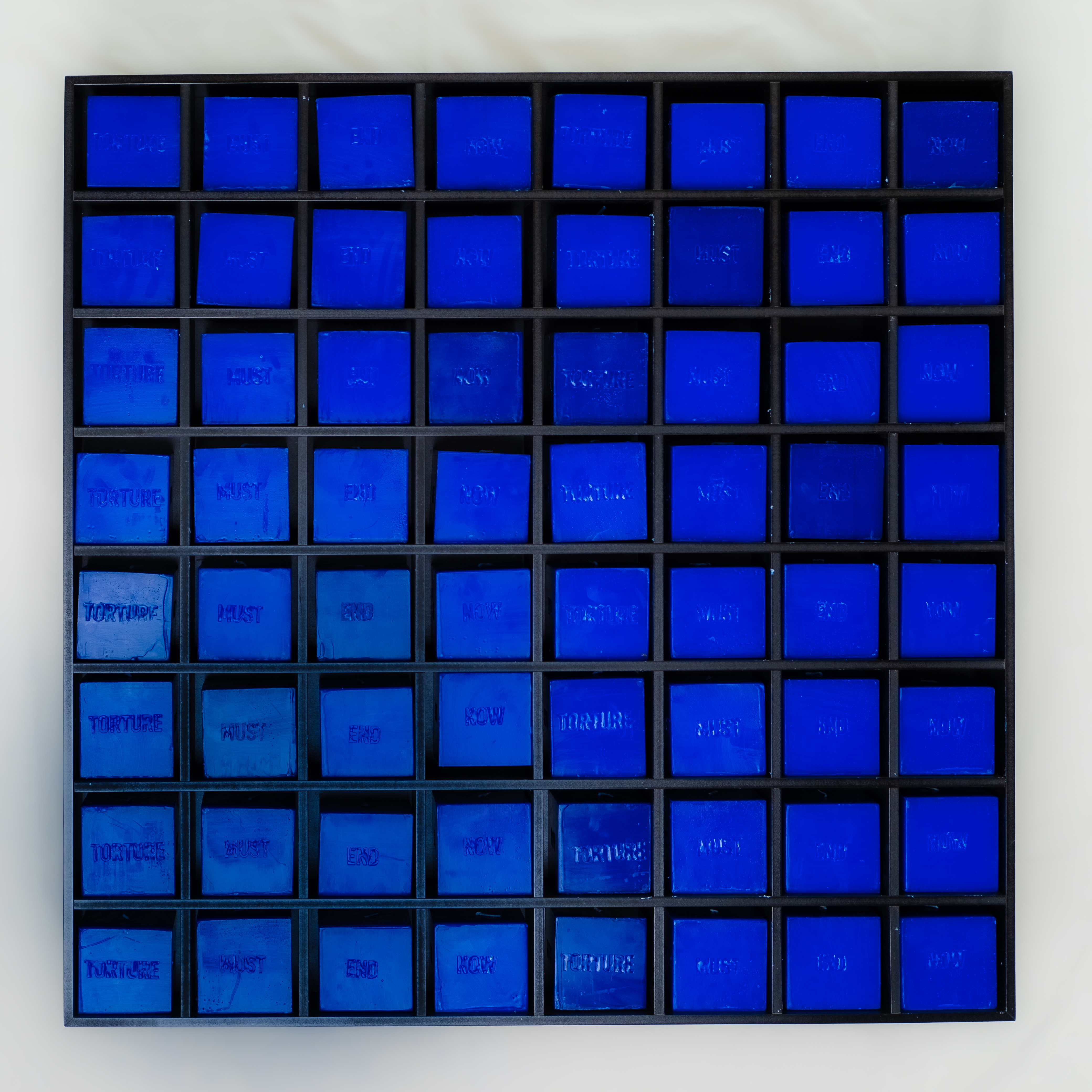 Torture Must End Now., 2022
64 blue wax candles in a wooden frame
Ed. 2/10
75.2 x 75.2 x 9.5 cm
Collection of contemporary art