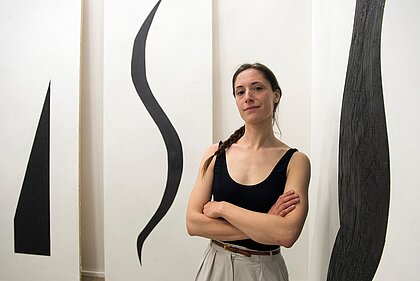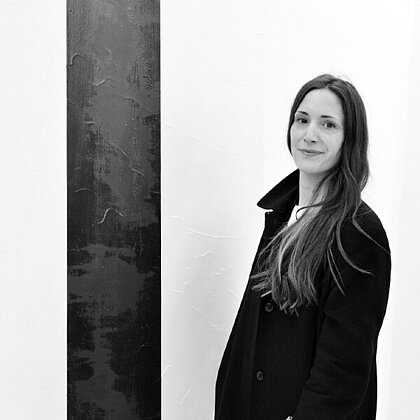 Biography
The Swiss visual artist Emilie Ding was born in 1981 in Fribourg. She studied art in Bienne (Bern) and Geneva between 2000 and 2008, and has since been the recipient of a number of prizes, including, in 2013, the Grolsch du Off Prize, the Gandur Foundation for Art Prize, and the Liechti Foundation for the Arts Prize. In 2014, she was likewise singled out at the Swiss Art Awards in Basel. Her work has been shown at the Palais de Tokyo in Paris and at Mamco in Geneva in a solo exhibition the museum devoted to her in 2015, as well as in Berlin and Lausanne.
She has been selected for a number of artist residencies that have taken her to Paris (2010), Berlin (2012) – where she has decided to settle – Texas, and Johannesburg in South Africa (2013). In 2015, as part of the maintenance work being done on the Corbalanche avalanche-protection tunnel in France, she created an extensive public art piece along the road leading to the Flaine ski resort.
About the artworks
Like Hugh Ferriss, the engineer and draftsman who for many years analyzed the development of New York at the start of the last century, Emilie Ding nowadays does her work on the theme of construction, at the point where engineering and drawing meet. Fascinated by the technical side of construction, by the systems for distributing forces which are put in place in a piece of architecture as it goes up in order to stabilize it, Ding has found in engineering's formal language a way to radically conjure up those tensions and balances. She takes a keen interest in the massive structures that result from buildings – pylons, routes, bracings, and buttressing structures – and focuses on the formal possibilities that architecture offers, responding to them with forms made of concrete, steel, and felt, midway between sculpture and construction, representation and function. Employing a minimalist idiom, she sometimes seems to take a page from Arte povera in her choice of materials while at other moments flirts with the brutalist esthetic. Vis-à-vis the monumental structures she is able to create in the space of an exhibition gallery, the geometrical drawings she executes in graphite display a radical tenacity that is in no way diminished by the medium she employs.
They express the attraction exercised by the technique of raising large buildings. Patterns that are subtle, repeated, balanced, or off kilter play out in powerful perspectives that give rise to that well-known feeling of vertigo at the foot of buildings in Manhattan. In recent years her two- and three-dimensional pieces sport simple black geometric motifs, daring the occasional curve; they are more isolated and imposing than earlier iterations, and not without references to a certain kind of science fiction that opens the story up to new readings of the work.
How High Can You Count, which adorns the facade of Banque Mirabaud in Geneva, consists of luminescent tubes. This installation pays tribute to composer Pauline Oliveros, founder of the Deep Listening concept. This practice aims to differentiate between hearing and listening, two ways of processing the same sound information.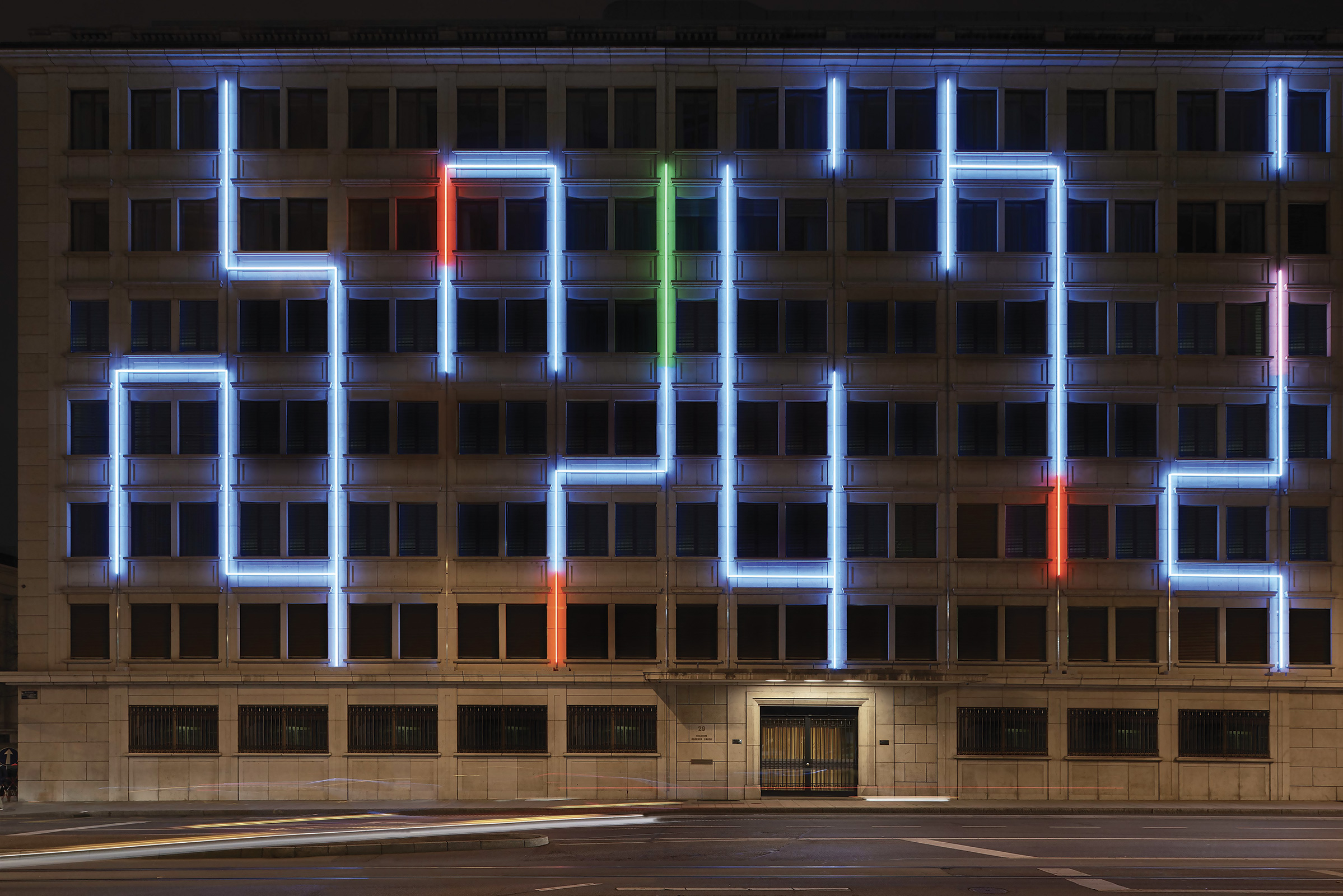 How High You Can Count, 2017
Luminescent tubes
Variable dimensions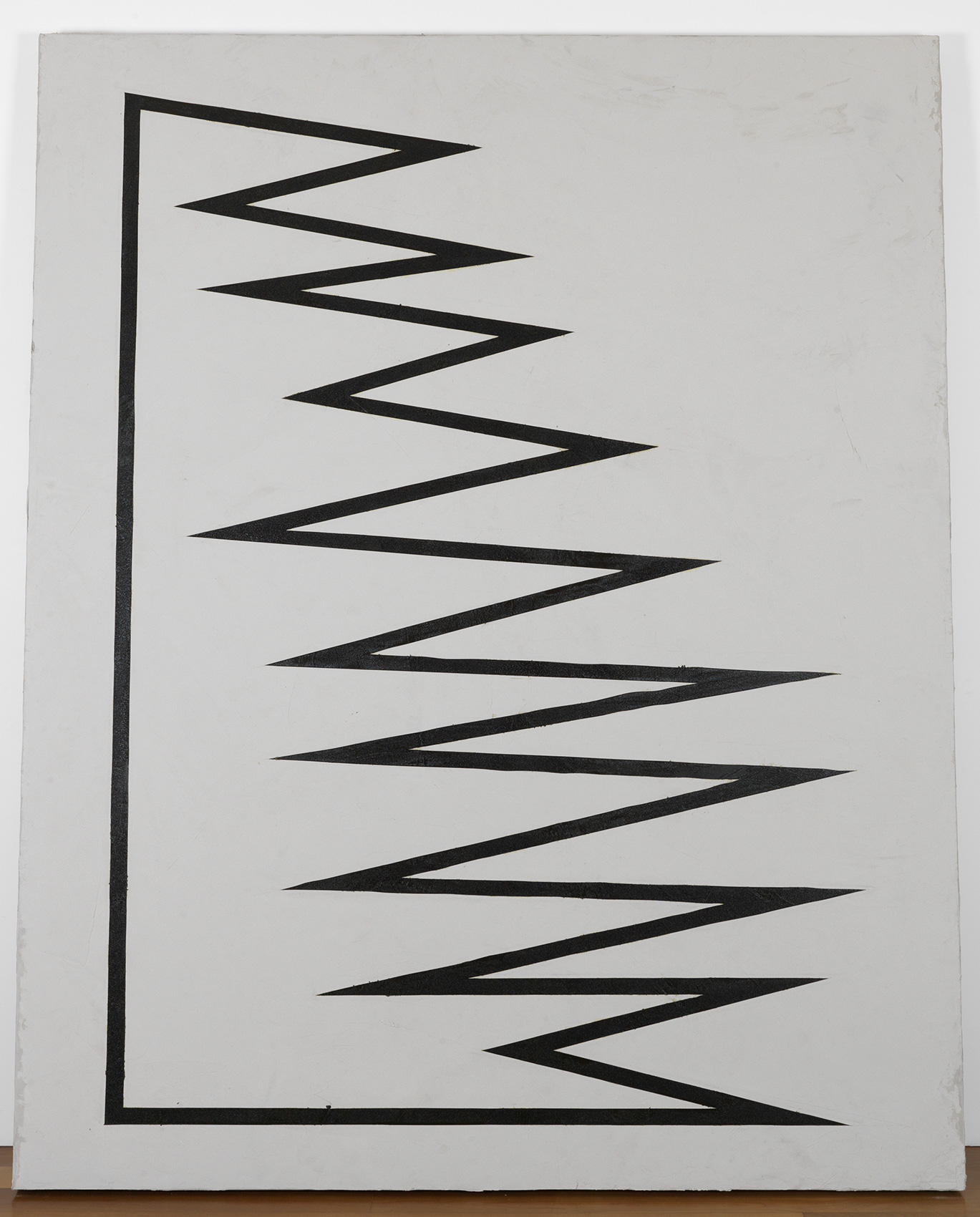 One must have a mind of winter and have been cold a long time, 2014
Mixed media on cement
260 x 200 x 10 cm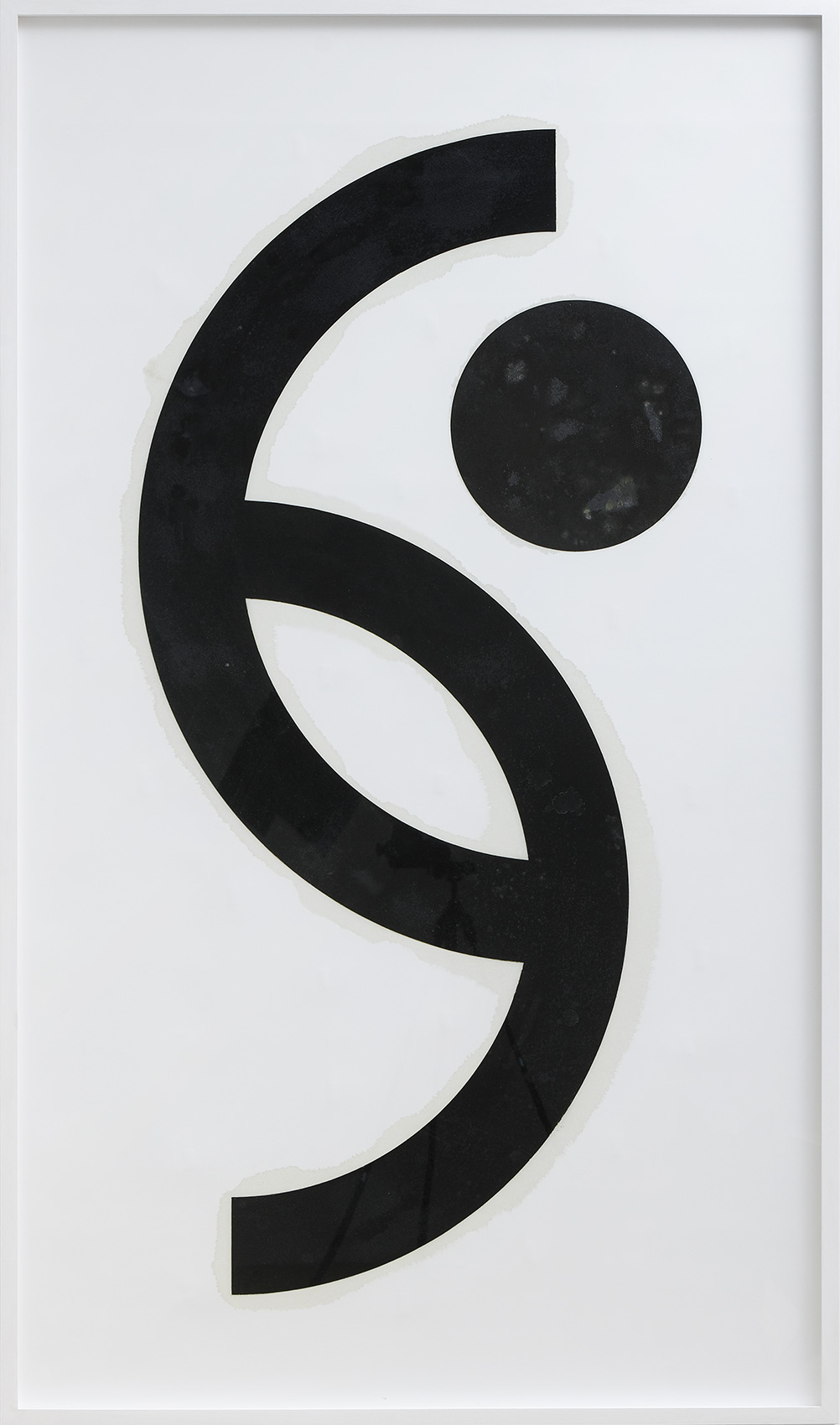 Untitled, 2018
Graphite and mixed media on paper
203 x 120 cm
Collection of contemporary art