Switzerland
Franz
Gertsch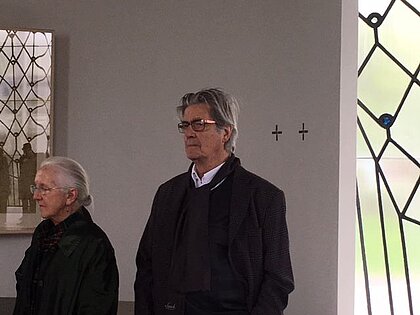 Biography
Franz Gertsch was born in 1930 in Mörigen in Bern. From 1947 to 1950, he studied painting with Max von Mühlenen and then with Hans Schwarzenbach. In 1949, he had his first solo exhibition at the Galerie René Simmen in Bern. The pop art of the 1960s had a decisive impact on him. He travelled to Scotland and the South of France and began producing collages with coloured paper, and in 1967, he received the Louise Aeschlimann scholarship. He exhibited at Documenta V in Kassel in 1972.
In 1974, he took part in two exhibitions, Hyperréalistes américains / Réalistes européens at the Centre Pompidou in Paris and New Photo Realism at the Wadsworth Atheneum in Hartford (US), which brought him international recognition. In 1999, he participated in the Venice Biennale and in 2002, opened his own museum near Bern. His work has recently been exhibited in institutions such as the Kunstmuseum in Bern in 2014, the Musée Jenisch in Vevey in 2017 or the Swiss Institute in New York in 2018. Franz Gertsch lives and works in Rüschegg in the Canton of Bern.
About the artworks
In 1969, he painted his first large-scale photorealistic work entitled Huaa…!, setting the protocol for his future work to be modelled on the objective reality produced with a still camera. In his desire to work in a purely painterly way, free from any personal style, he developed an objective system based on the reproduction by hand of a slide projection using the pointillist method developed from Georges Seurat's theory of optical colour mixing from the 1880s. Initially working from images from magazines, he soon changed to personal and domestic iconography. His favourite subjects include his wife and children as well as artist friends; he also painted group images in relation to local or actual events. The androgynous-looking painter Luciano Castelli became his favourite model depicted in two-character images set against the background of his apartment and in the company of his flatmates. Gertsch is viewed as the chronicler of the hippie generation.
The five iconic paintings of Patti Smith from 1978 – 1979 represent the first time Gertsch painted an individual who was not from his immediate circle. In 1980, his first self-portrait marked a radical moment in his career and the end of narrative content. From then on, his main themes would be the female portrait and details from nature. In 1986, he abandoned paint in favour of the ancestral woodcut technique that he revived in large formats printed on Japanese paper especially produced for him in Kyoto. He also abandoned polychromy in favour of the monochrome, using different mineral colours for each print of the same subject, creating series and editions.
The meticulous attention to detail, colour and material, and the sheer length of time that goes into executing a piece, sometimes working on an image for several months to a year, mean that Gertsch's art resembles the work of Renaissance painters. In contrast, however, his choice of subject, the angle of the composition and the use of a photograph as a model ground his practice in a post-photographic aesthetic that also inspired American artists of the hyperrealist school during the same period.
Gertsch's body of work experiments extensively with the question of figurative art while his "lack of style" from the methodical technique of pointillism has become his trademark. His oeuvre offers a reflection on the time required for an image to emerge.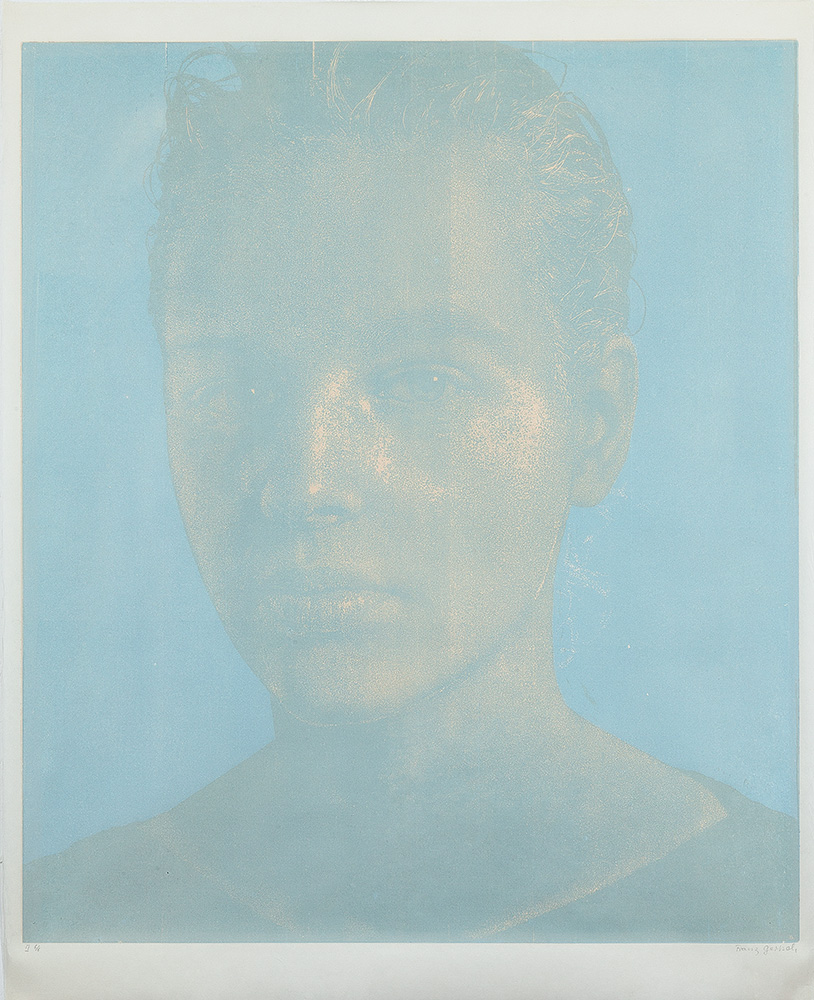 NATASCHA I, 1986
Colour woodcut
Ed. II, 6/6
105 x 90.5 cm
Collection of contemporary art