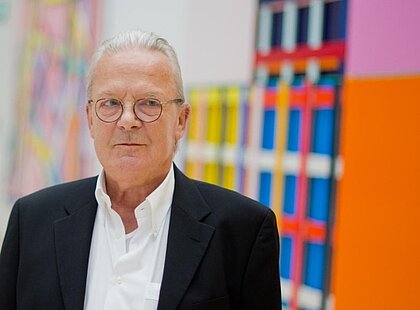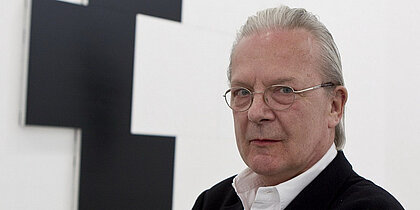 Biography
Imi Knoebel was born Klaus Wolf Knoebel, in Dessau, Germany in 1940. From 1962 to 1964, he attended the Werkkunstschule in Darmstadt, where he studied structural design and constructive composition according to the theories of Johannes Itten and László Moholy-Nagy of the Bauhaus. The name "Imi" was bestowed on him by his close friend and fellow art student, Rainer Giese. Together they formed a duo and called themselves Imi & Imi for "Ich mit Ihm" (I with him). From 1964 to 1971, they studied together at the Kunstakademie Düsseldorf with Blinky Palermo, under the professorship of Joseph Beuys.
Imi Knoebel has exhibited four times in Kassel's Documenta, in 1972, 1977, 1982 and 1987. In 1996, the Haus der Kunst in Munich held a large retrospective of his work which then travelled through Europe and in 2009, another retrospective was held at the Hamburger Bahnhof and the Neue Nationalgalerie in Berlin. In 2018, Imi Knoebel had a large-scale solo show at the Museum Haus Konstruktiv in Zurich.
About the artworks
Imi Knoebel is one of the foremost artists of his generation. His multifaceted oeuvre spans over 50 years producing drawings, paintings, sculptures, photography, projections and installations. Early on, the artist took a reductionist position, exploring pure lines, light projections and white images. In 1968, he was one of the first using photography as an artistic medium projecting light into empty rooms and documenting these projections in photographs.
The influence of Bauhaus would become clearly visible later in his use of geometry and colour. As of 1974, he started experimenting with an industrial rustproof paint by overlapping bright and expressive colour combinations applied on plywood and metal plates. He placed these panels in spatial relation to each other creating scale sculptures, exploring relations between the space, surface and colour.
When his friend and famous artist Blinky Palermo died in 1977, Imi Knoebel paid tribute to him by painting the 24 colours for Blinky series. He then stopped using black and white and has been working extensively in colour since. His canvases are at once gestural and formal, exploring the effects of material and colour. The artist rejects any notion of spirituality.
In 1988, Imi Knoebel realized the social artwork Kinderstern and founded the eponymous foundation. To this day, the charity still stands for Childrens' Rights as new stars are issued and acquired through a donation, the proceeds of which go to children in need. This work embodies the notion formulated by his professor, Joseph Beuys, that art should change society. In 2011, he designed stained glass windows for the cathedral of Reims. Quite a symbolic gesture on behalf of a German artist! The colourful glass works stand adjacent to those by Marc Chagall, commissioned in 1974.
ALLE VIER, 1998
Acrylic on aluminium square tubes
102.5 x 102.5 x 8.6 cm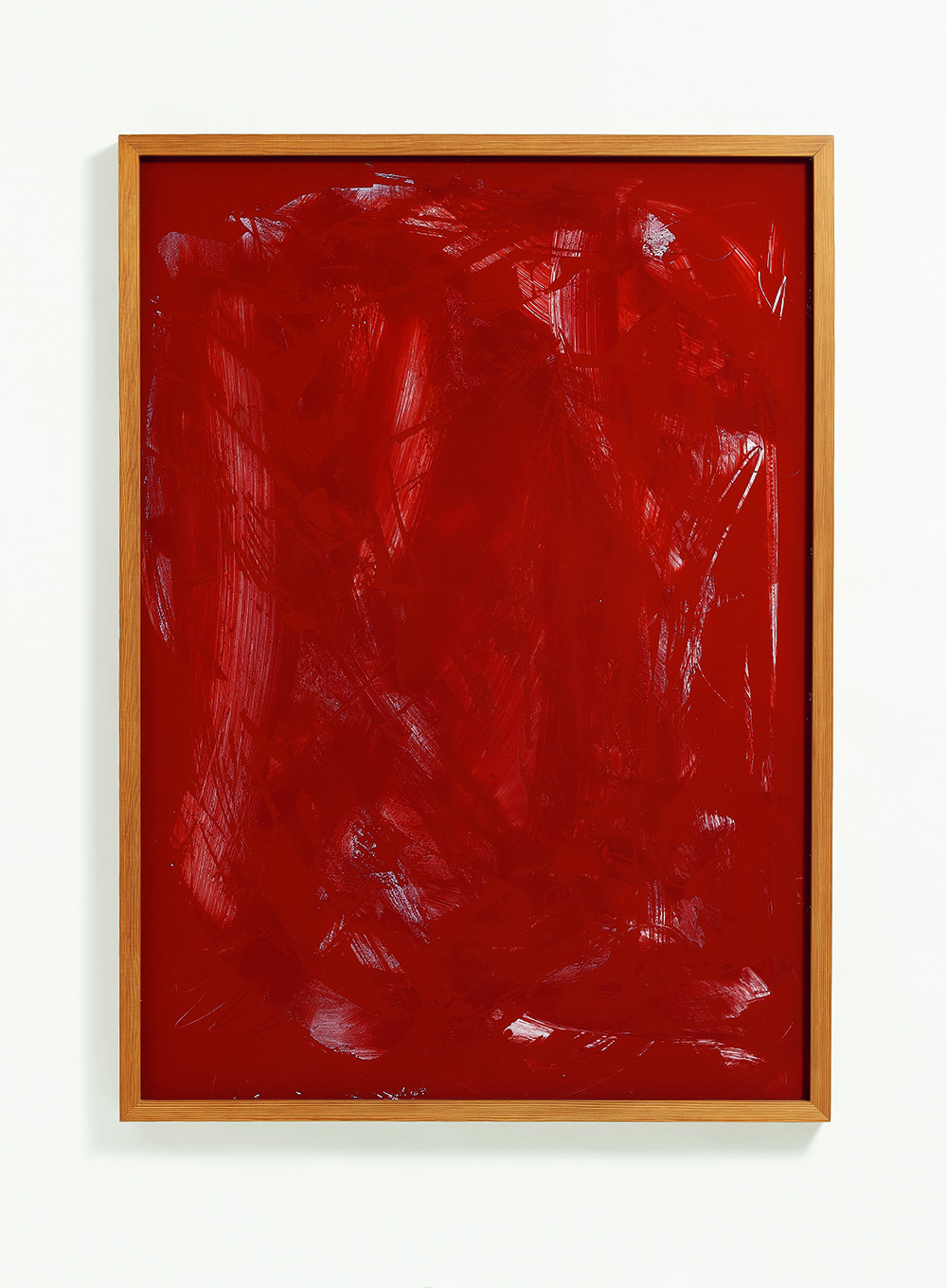 OHNE TITEL, 1990
Acrylic on plexiglas
100 x 72 cm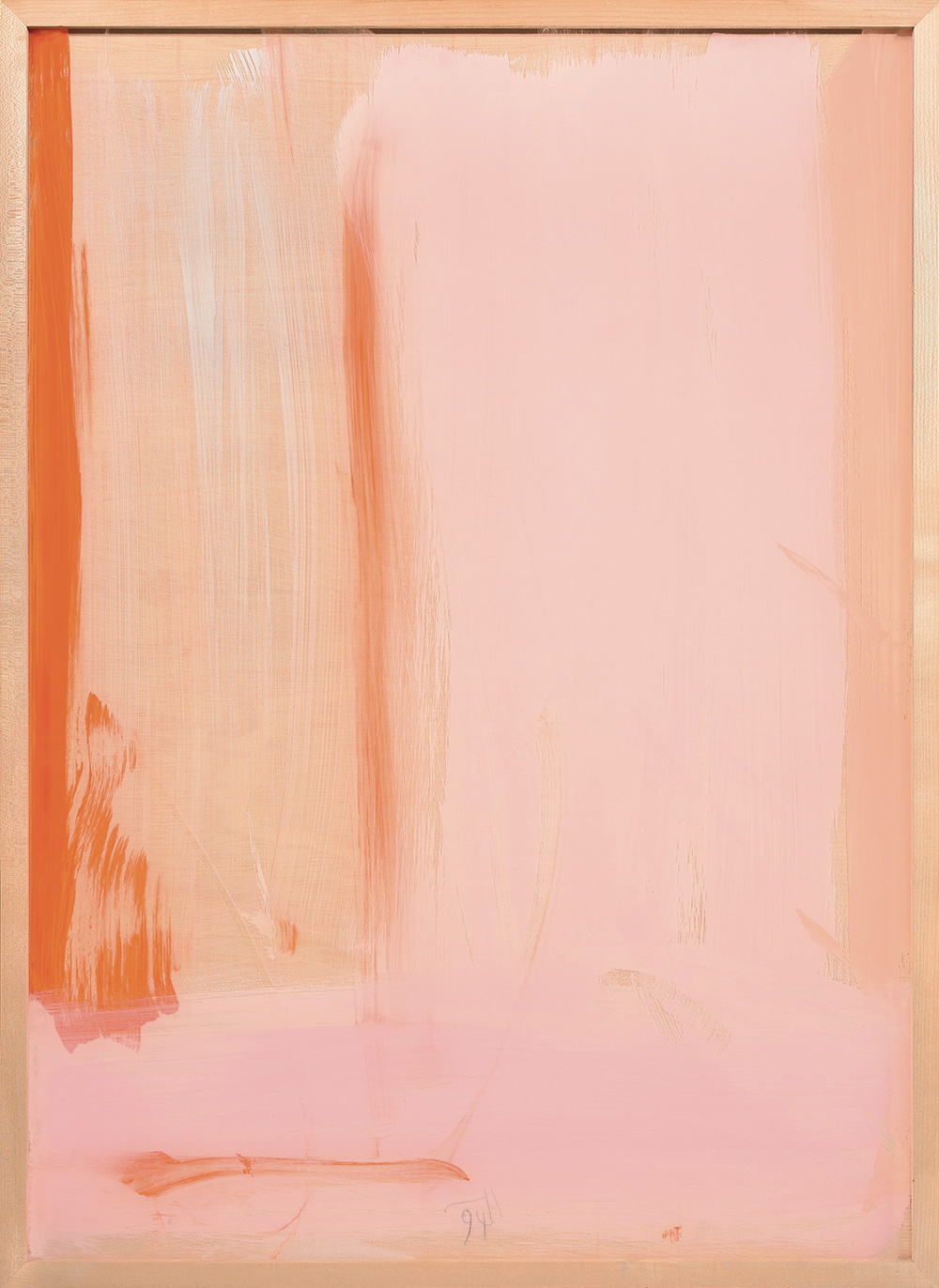 OHNE TITEL, 1994
Acrylic on plexiglas
90 x 66 cm
Collection of contemporary art