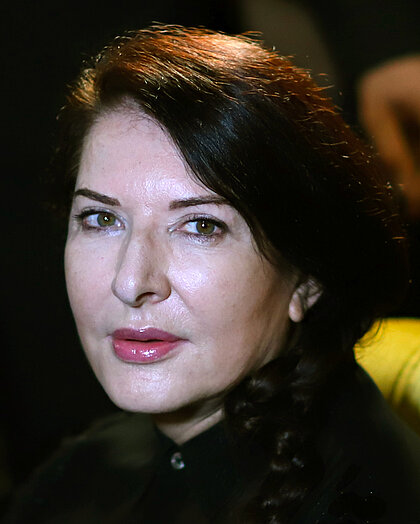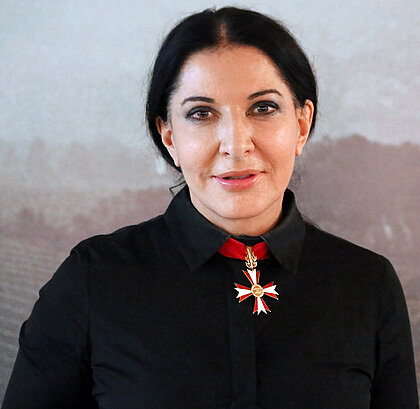 Biography
Marina Abramović was born in Belgrade (then Yugoslavia) in 1946. She studied art in her home town and began exploring performance in 1973. A few years later, she began an artistic collaboration with her companion, Ulay, a phase that they brought to an end in 1988 with The Great Wall Walk, in which the separating partners walked towards each other from opposite ends of the Great Wall of China. Abramović now continues her exploration of bodily and mental limits on her own. In 1997, she won the Golden Lion at the Venice Biennale for Balkan Baroque. In 2010, she had a major retrospective at MoMA in New York where she put on a performance lasting a total of 736 hours and 30 minutes, which consisted of sitting silently across a table from visitors who took turns to participate.
In 2012, Matthew Akers and Jeff Dupre produced a documentary on the artist (Marina Abramović: The Artist Is Present). Between 2011 and 2013, Abramovi toured several cities in Europe and North America with Bob Wilson's The Life and Death of Marina Abramović, a "quasi-opera" at the intersection of theater, opera and visual art, where Abramović played herself in a reimagining of her extraordinary life and work. Inbetween, Abramovi founded the Marina Abramović Institute (MAI) in New York, a centre dedicated to research into immaterial and live arts. She published her memoirs in 2016, entitled Walk Through Walls. In 2017-18 was held The Cleaner; the first major retrospective of her work to be shown in Europe in various institutions. The artist lives and works in New York.
About the artworks
Marina Abramović is an icon of contemporary art. With a career spanning five decades, she is a pioneer of performance art and is recognised as one of the most important and influential artists of our time. Always personally exposed, subject to physical and psychic danger, her body is one of the main mediums of her art as she confronts extreme situations involving knives, fire, snakes and forms of violence. Often, too, the artist encourages viewer participation, using museum and gallery spaces as the theatre for actions in which she is constantly pushing back limits.
In addition to pain, time is central to her work. Abramović's performances can last hours or even days, demanding extreme concentration from the artist, who remains silent. Her work is paralleled by the constant effort to maximise and renew vital energy by means of meditation and reflection on the essential. Indeed, the artist has developed her own theory of natural strength, one manifestation of which is the use of crystal, a feature of many works, and an exploration of nature, of Mother Earth.
At the same time, the wars that split the country of her birth, Baroque imagery and the tradition of the dance of death all inform a keen awareness of death that is another major strand in the work. Skulls and skeletons contrast with energy and life, linking with the femininity embodied by the artist herself.
By her presence, Abramović evokes legendary and tutelary presences, goddesses and protective mother figures. She is constantly renewing what is a very personal repertoire with new references, transcending visual formats, periods, cultural and visual influences to create art that is universal. Abramović's work is recorded in a considerable corpus of films and photographs.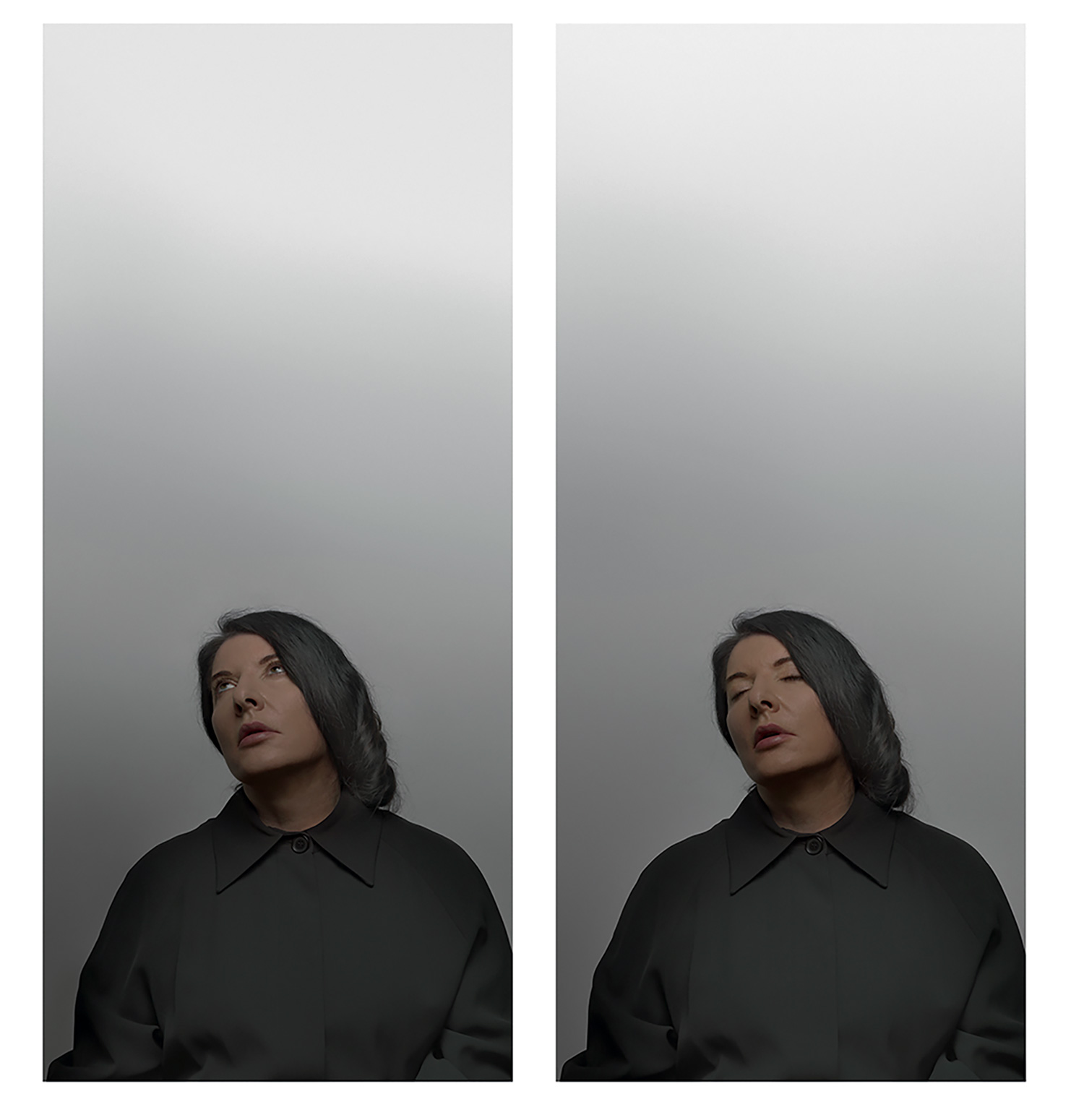 ECSTASY I (DIPTYCH), 2012
From the series With Eyes Closed I See Happiness
C-print, fine art pigment print
Ed. 3/3 + 2AP
180 x 160 cm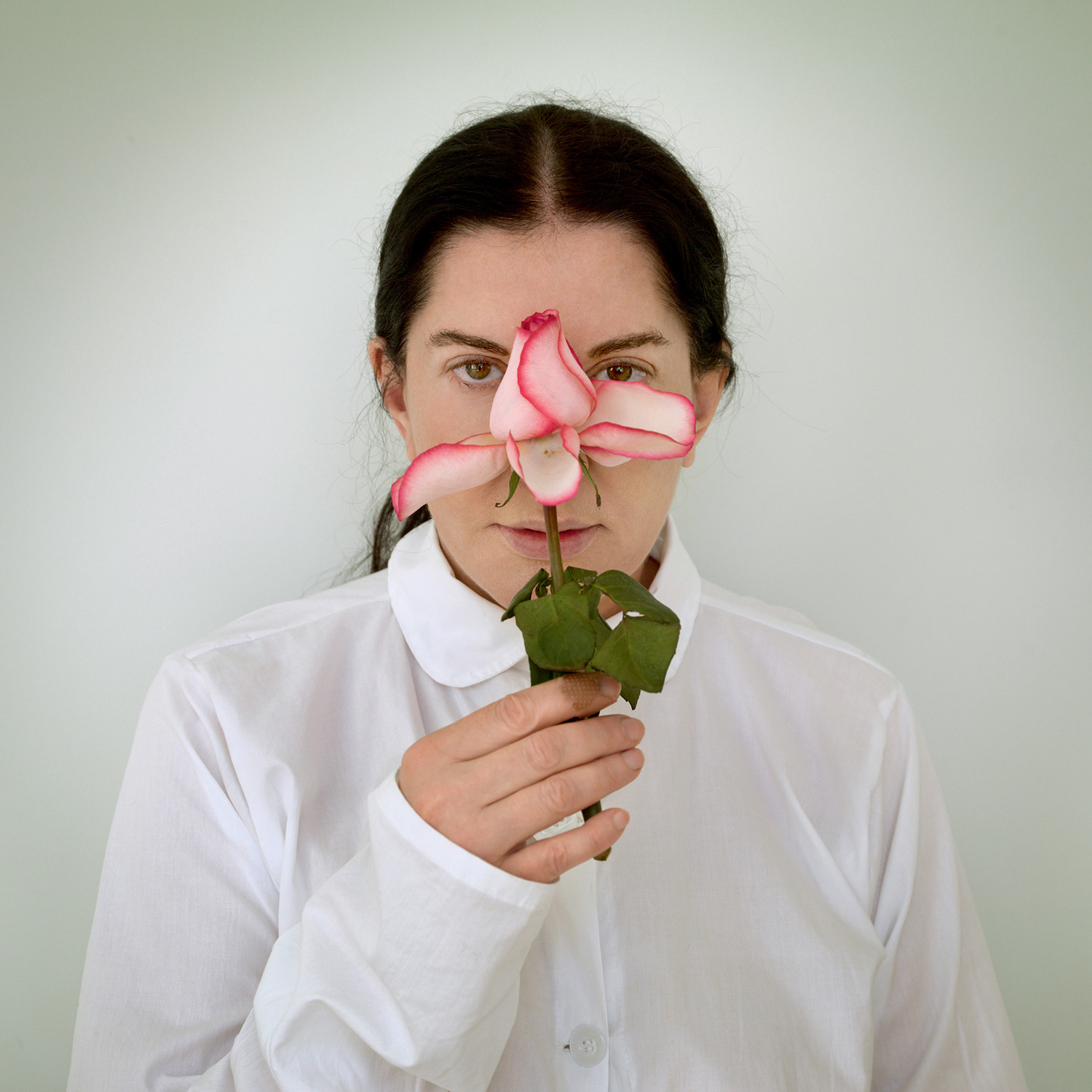 ARTIST PORTRAIT WITH A ROSE, 2013
C-print, fine art pigment print
Ed. 1/5 + 2AP
70 x 70 cm
THE CURRENT, 2013
Digital print on cotton paper
Ed. 41/300
43 x 43 cm
Collection of contemporary art