United States
Rebecca
Ward
Biography
Rebecca Ward was born in Waco, Texas, in 1984. She received her BA in Fine Arts at the University of Texas in 2006 and her MFA in Fine Arts from the School of Visual Arts in New York, in 2012.
In 2013, she received a fellowship for a residency at the Alighiero Boetti atelier in Italy and in 2017, she had a solo exhibition at the FLAG Art Foundation in New York. She lives and works in Brooklyn and exhibits internationally on a regular basis.
About the artworks
Influenced by the Arte Povera movement, Rebecca Ward's work is about the construction or deconstruction of an object and its relationship to a surrounding architecture. She started her exploration of material, processes and space with impressive large-scale installations made principally from duct tape. These tape installations evolved into full coloured large-scale exhibitions, which became her trademark. During her post-graduate studies, her work shifted towards less expressive paintings and sculptures in which she presented the "line" on canvas using domestic materials typically associated with women and domesticity as expressed according to the canon of a male dominated modernity. It is worth noting that the artist's own statement is a scan of Roland Barthes essay "Soap-powders and Detergents". This is a text published in Barthes's famous collection of essays titled Mythologies, which looks at the tendency of social value systems to create modern myths.
Ward's work makes abundant references to that of ground breaking feminist artists Eva Hesse and Agnes Martin, whose limited palette, geometric vocabulary and muted tones evoke delicate transparency.
Bleach, lambskin, silk, batting and spliced wood are some the artist's preferred mediums. She painstakingly cuts out patches and unravels canvases thread by thread before reassembling the parts of a whole; she reveals frame stretchers in areas within a painting to create new, delicately hand-crafted yet resolutely modernist compositions.
The titles of her works are extremely relevant and personal. They give a resonance to the piece and call it to be understood in a specific mind-set. The tape installations, which she had been creating for more than 10 years, found a new form and life in the recent wood sculptures. The evolution of her work from ephemeral installations, to paintings paying attention to frames and how the image responds to the frame, to shaped canvases and ultimately to wooden sculptures, has been an organic process, over the years.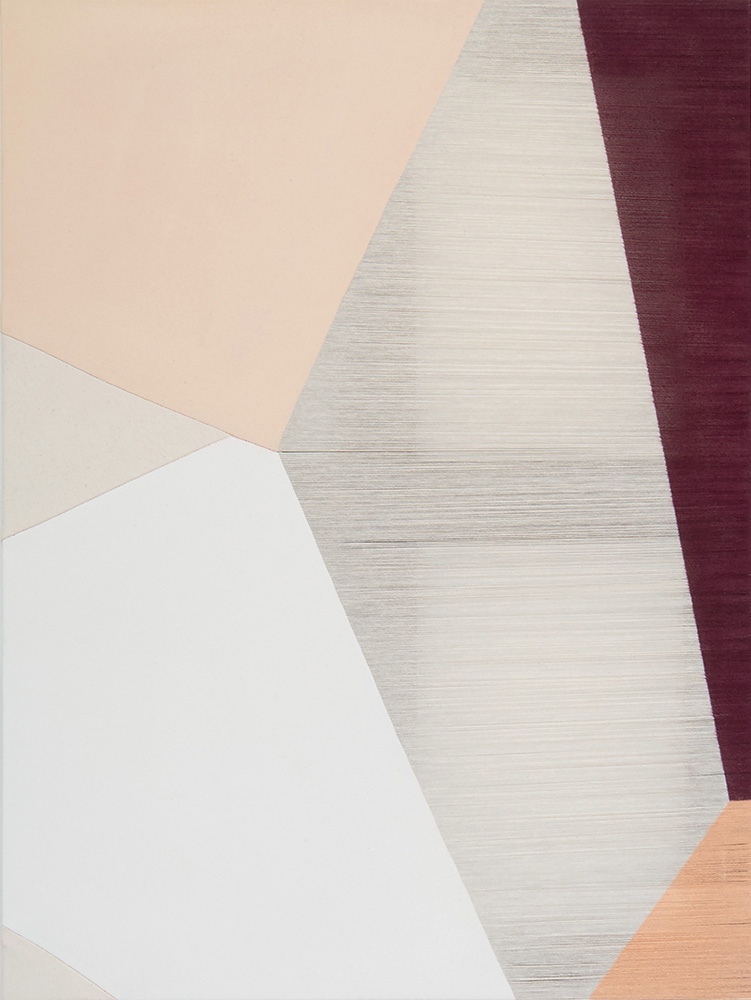 OBDURATE, 2015
Oil and acrylic on stitched canvas
81.3 x 61 cm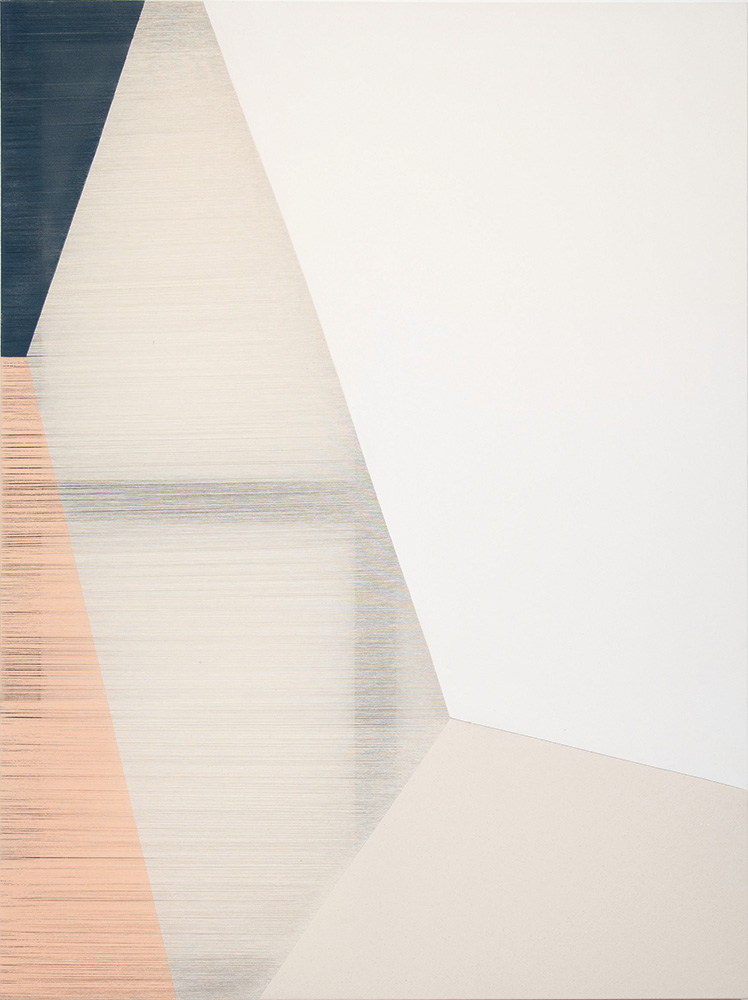 SALIENCE, 2014
Acrylic on stitched canvas
152.4 x 114.3 cm
Collection of contemporary art