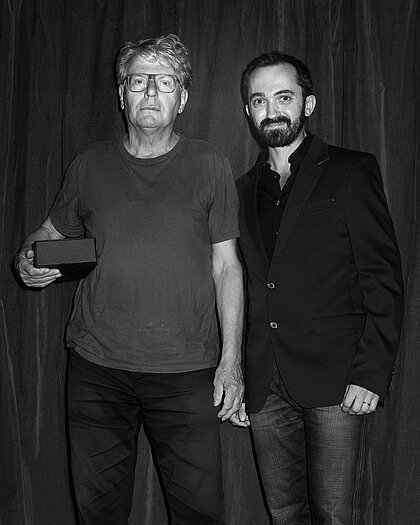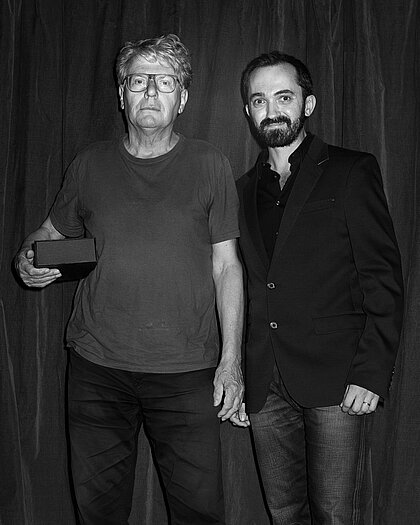 Biography
Roman Signer was born in the Swiss canton of Appenzell in 1938. He trained as an artist in Lucerne, Zurich and Warsaw. In 1987, he carried out a performance at Documenta 8 in Kassel during which he threw thousands of sheets of paper into the air, creating a spectacular, ephemeral wall. In 1999, the artist represented Switzerland at the Venice Biennale. His work can be seen in numerous museums worldwide, as well as in public space, notably in Zurich, Appenzell, Aarau and Saint Gall, among others.
In 1995, he was the subject of a film by Peter Liechti, a road movie following him across Europe. Roman Signer has won a number of international prizes. The Kunstmuseum in Saint Gall, where he lives and works, held a tribute to the artist for his 75th birthday in 2013, followed by a solo show in 2014. Between 2015 and 2018, he had solo shows at the Centre Culturel Suisse in Paris, the Centre de la Photographie in Geneva and the Kunsthal in Aarhus (Denmark) among others.
About the artworks
Surprising and eclectic, Roman Signer is one of the best known Swiss artists internationally. His work is a mixture of performance, land art and more traditional forms. Seeing himself as essentially a sculptor, Signer creates ephemeral installations that he does not hesitate to destroy by the use of fire, explosives or mechanical movements. He often takes part himself in the performances he dreams up, while in others, objects simply interact together, moved by speed, noise or wind. The notion of time is also important, and Signer uses it like a material with its own specific plasticity. The conception of the work thus includes each phase that takes it from construction to its eventual destruction. Although they are rarely public, the artist's performances are recorded in photographs and videos, allowing others to witness these poetic moments, and giving us an idea of his "dematerialised sculptures".
Direct and authentic, Signer's art makes use, among other items, of everyday objects such as chairs, tables, ladders and plastic bottles.
For example, Turm – Tisch is an ephemeral installation for which the artist piled up tables on a mountain top – a recurrent feature of his work, referencing his origins – and then blew them up, playing on the notions of verticality and on the destruction of what this represents. Described by some art critics as a "Buster Keaton of art", Signer likes to integrate notions of cause and effect into his artworks. The element of chance thus occupies an important position because the final result is never really known before the intervention has occurred, making these pieces possible metaphors for human destiny.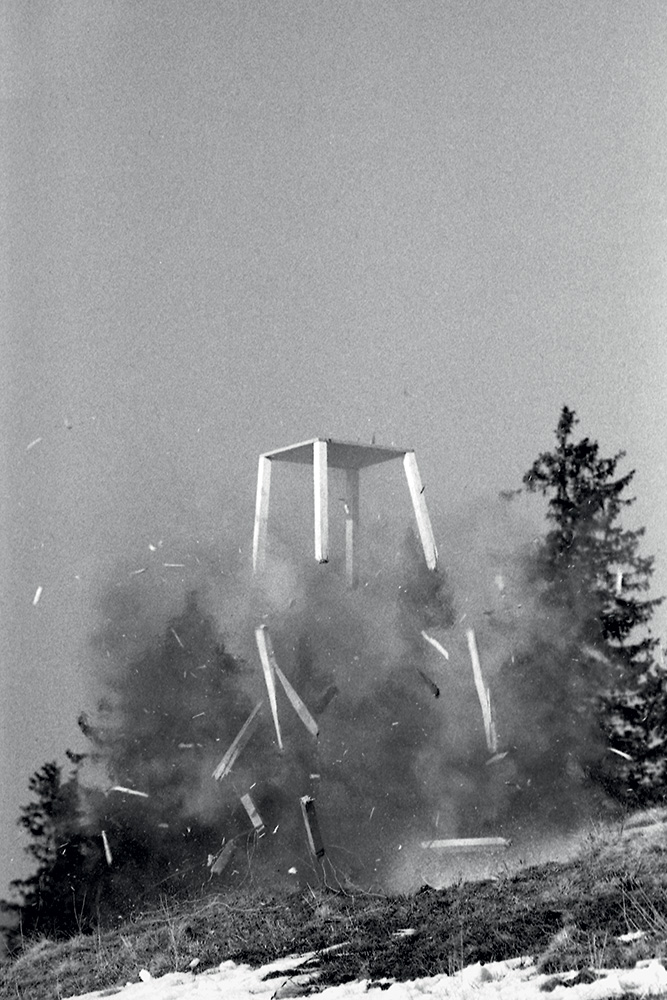 TURM – TISCH, 1979
B&W photographs
Ed. 10/10
6 parts, each 40 x 26.5 cm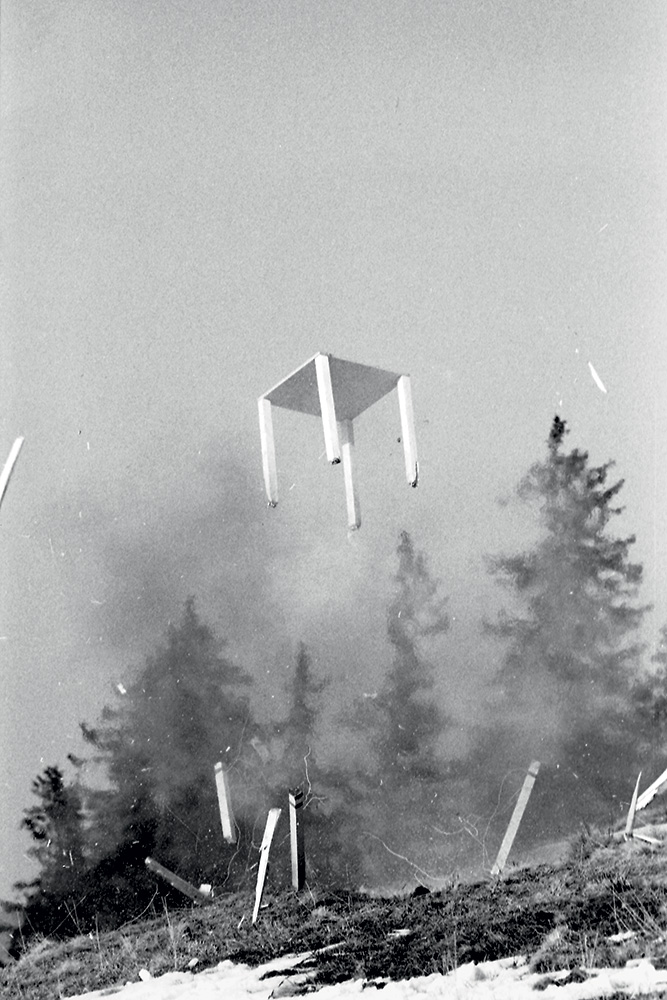 TURM – TISCH, 1979
B&W photographs
Ed. 10/10
6 parts, each 40 x 26.5 cm
TURM – TISCH, 1979
B&W photographs
Ed. 10/10
6 parts, each 40 x 26.5 cm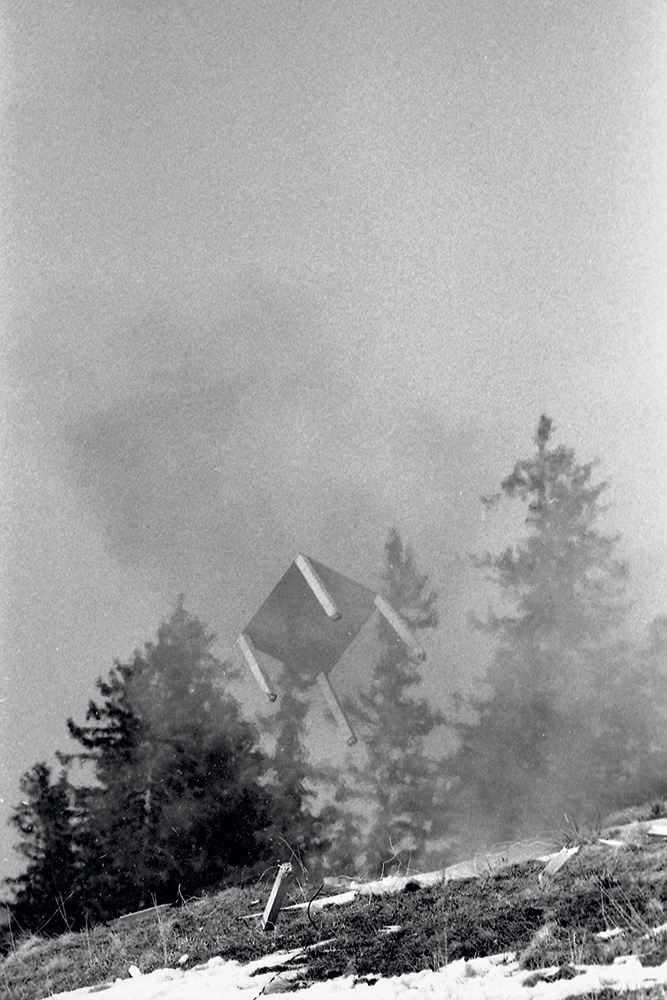 TURM – TISCH, 1979
B&W photographs
Ed. 10/10
6 parts, each 40 x 26.5 cm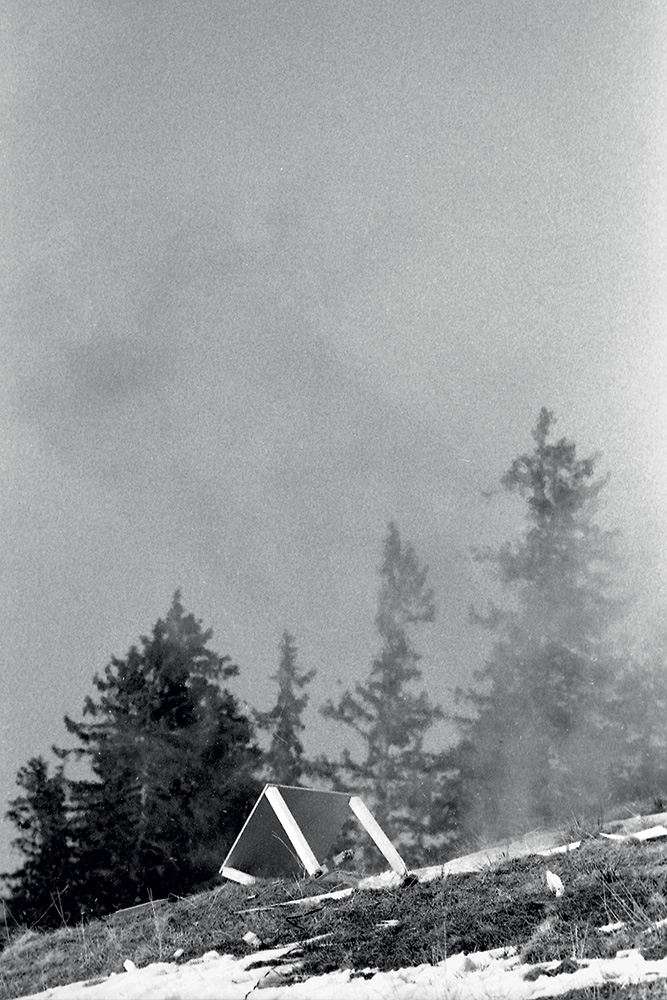 TURM – TISCH, 1979
B&W photographs
Ed. 10/10
6 parts, each 40 x 26.5 cm

SCHWARZES, 1982
B&W photographs
Unique
4 parts, each 11 x 7.6 cm

KISTE, 1985
B&W photographs
Unique
6 parts, each 7.7 x 11.2 cm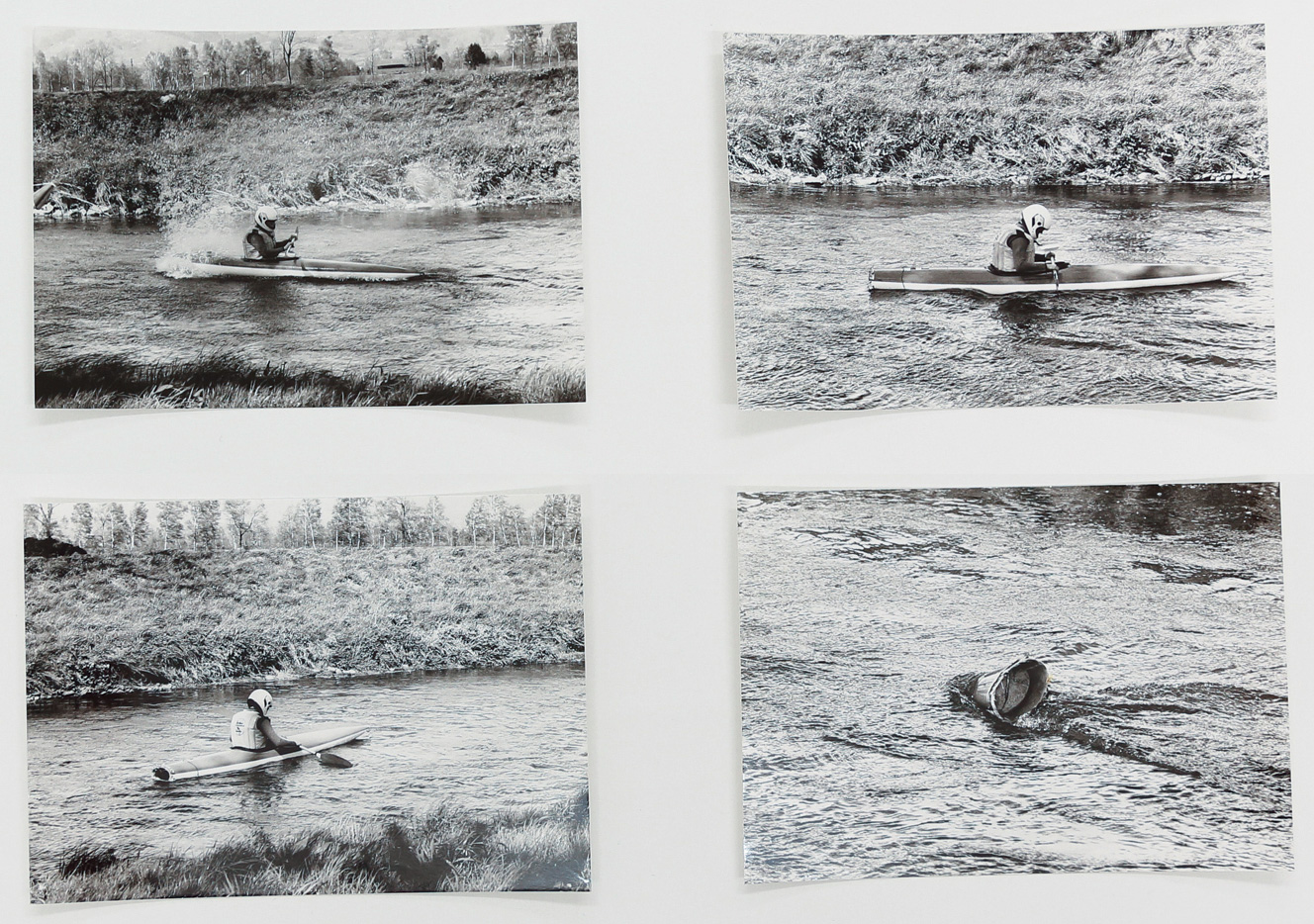 KAJAK, 1989
B&W photographs
Unique
4 parts, each 10 x 14.5 cm
AKTION KONSTANZ, 1998
C-prints
4 parts, each 40 x 52 cm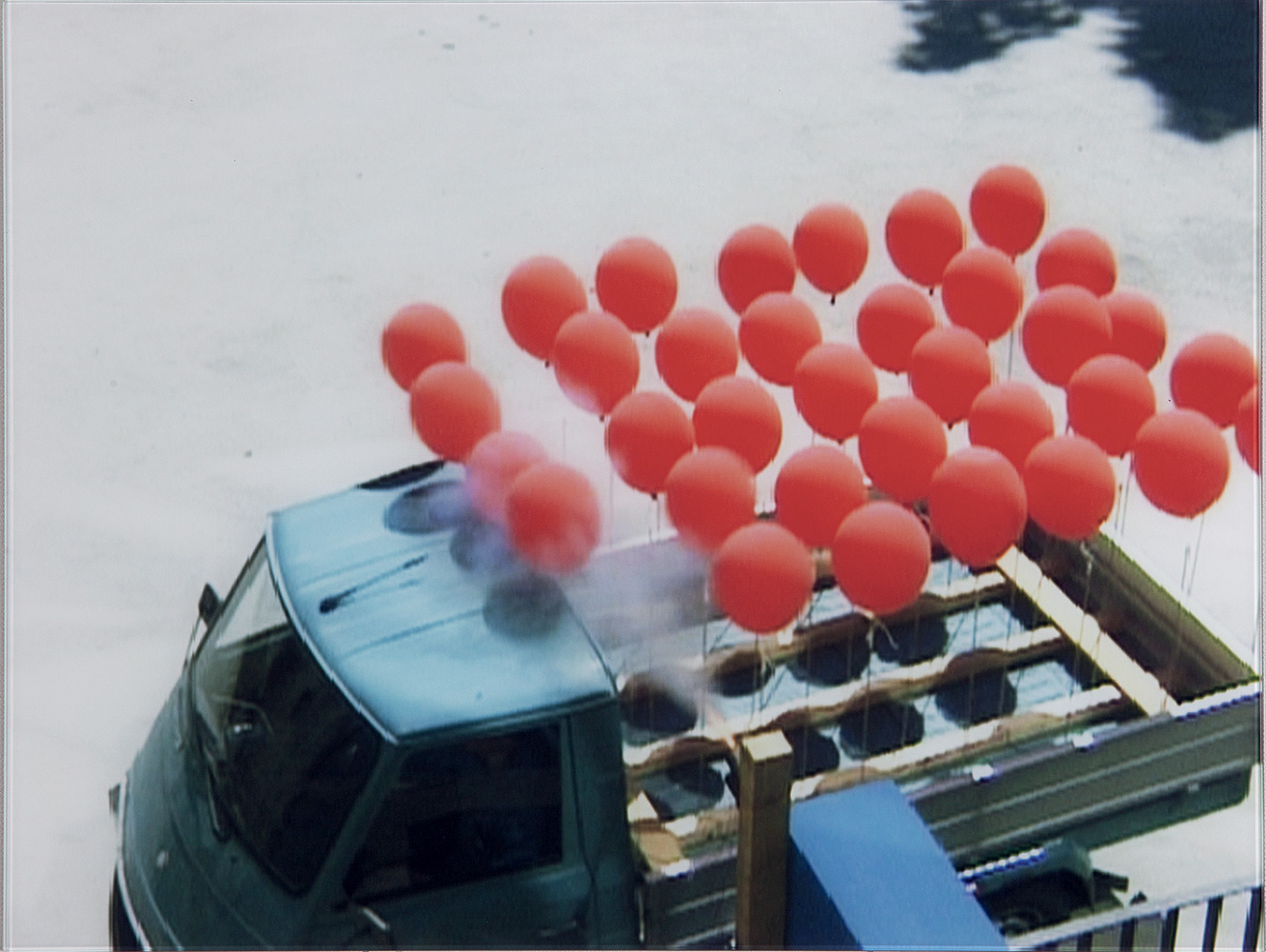 AKTION KONSTANZ, 1998
C-prints
4 parts, each 40 x 52 cm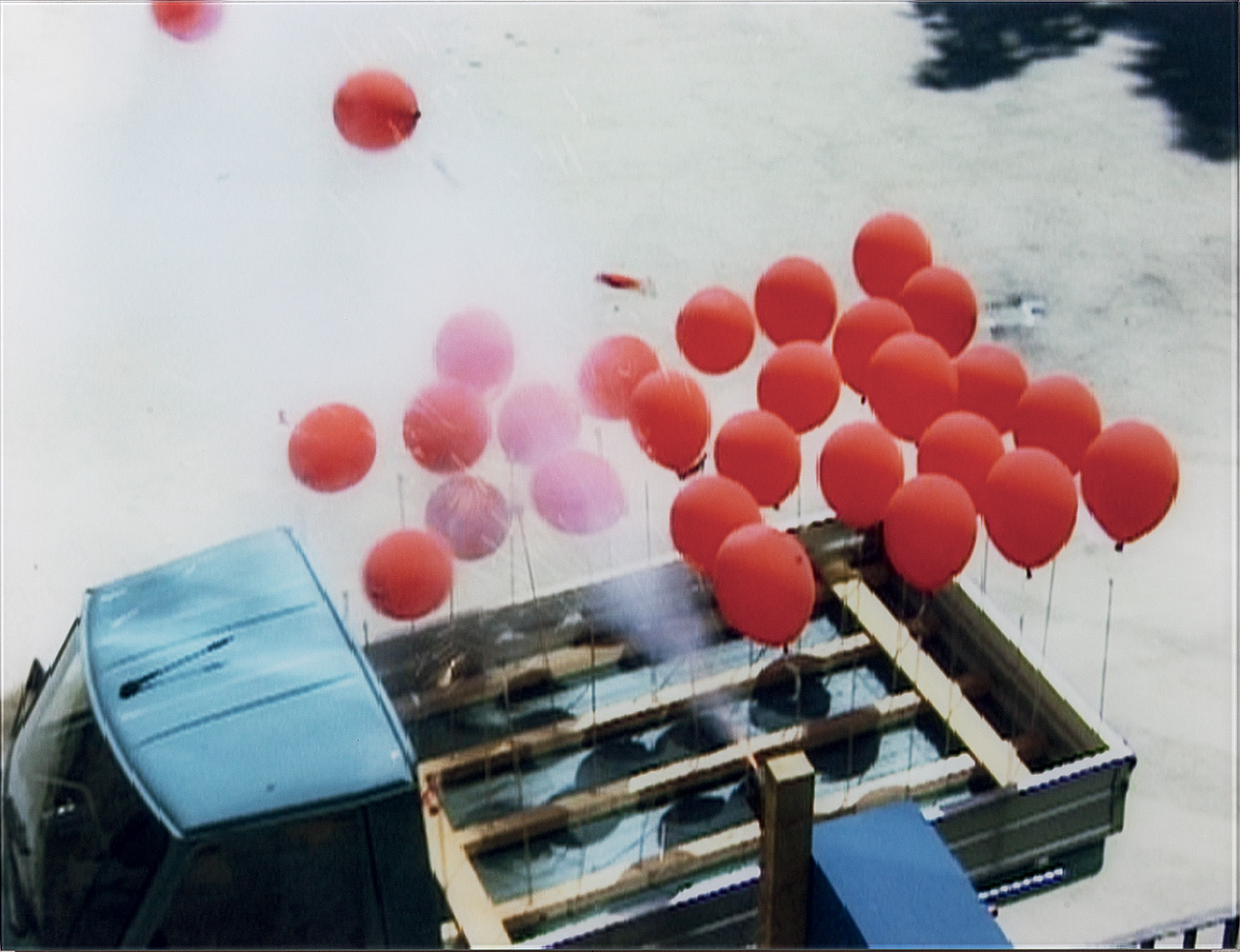 AKTION KONSTANZ, 1998
C-prints
4 parts, each 40 x 52 cm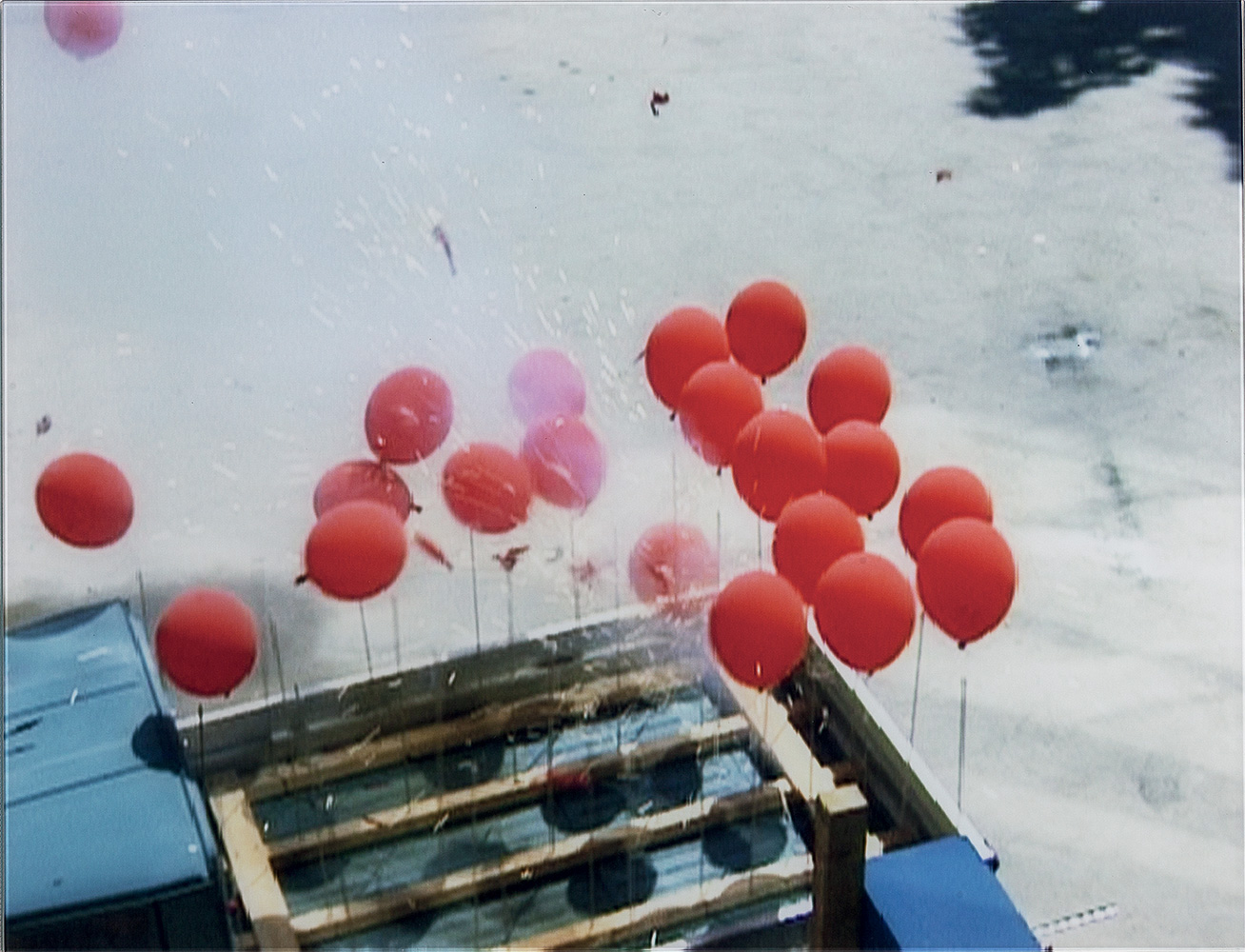 AKTION KONSTANZ, 1998
C-prints
4 parts, each 40 x 52 cm
Collection of contemporary art