United Kingdom
Ryan
Gander
Biography
Born in Chester (UK) in 1976, Ryan Gander studied Interactive Arts at Manchester Metropolitan University (1996–1999). In 2000 he spent a year at the Jan van Eyck Akademie in Maastricht as an art researcher, before doing a residency at the Rijksakademie in Amsterdam the following year. In 2011 he took part in the Venice Biennale and in 2012 he was at Documenta in Kassel, where he showed his piece I Need Some Meaning I Can Memorise (The Invisible Pull): a draft blowing through a big empty room.
Playing on narrative and subversion – for example, at the Kunsthalle Bern in 2019 a little mouse peeked out from behind a plinth and, in the voice of the artist's own daughter, recited the speech of Charlie Chaplin's Dictator – his work revisits, in an often humorous mode, the field of conceptual art using a variety of mediums (sculpture, installation, interactive devices, performance, video, design, writing). Gander has had solo shows around the world, notably in Paris, New York, Amsterdam, Vienna, Zurich, Miami, Los Angeles, Tokyo and Mexico as well as London, where he now lives and works.
About the artworks
There are some contemporary artists whose style and manner are immediately recognizable, either because they express themselves in a single medium, or because their art evolves within a particular aesthetic, or again because it follows a clearly defined protocol. The winner of the 2003 Prix de Rome for Sculpture does not belong in this category. Generally speaking, Gander's sculptures have little in common with each other, except for the curiosity they arouse. As Gander himself likes to put it, "Enabling people to imagine is a gift as valuable as education." This is an artist who uses a wheelchair and knows all about exclusion.
Sometimes, he also stages his own difference. "Accessibility is very overrated," he says, "and that idea fuels my work". For example, he explains that when he cannot get to a party because of the steps he cannot ascend, he imagines it instead. That is why his work is made from a "missing" part, as he puts it. I is… (i) is based on the series of makeshift dens made by his daughter Olive over the last few years, in a great variety of sizes, shapes and architectural styles, which he transforms into marble sculptures. Imitating the drapery typical of classical sculpture and frozen in this noble material, these dens are like enduring commemorations of those ephemeral worlds in which the imagination plays the central role.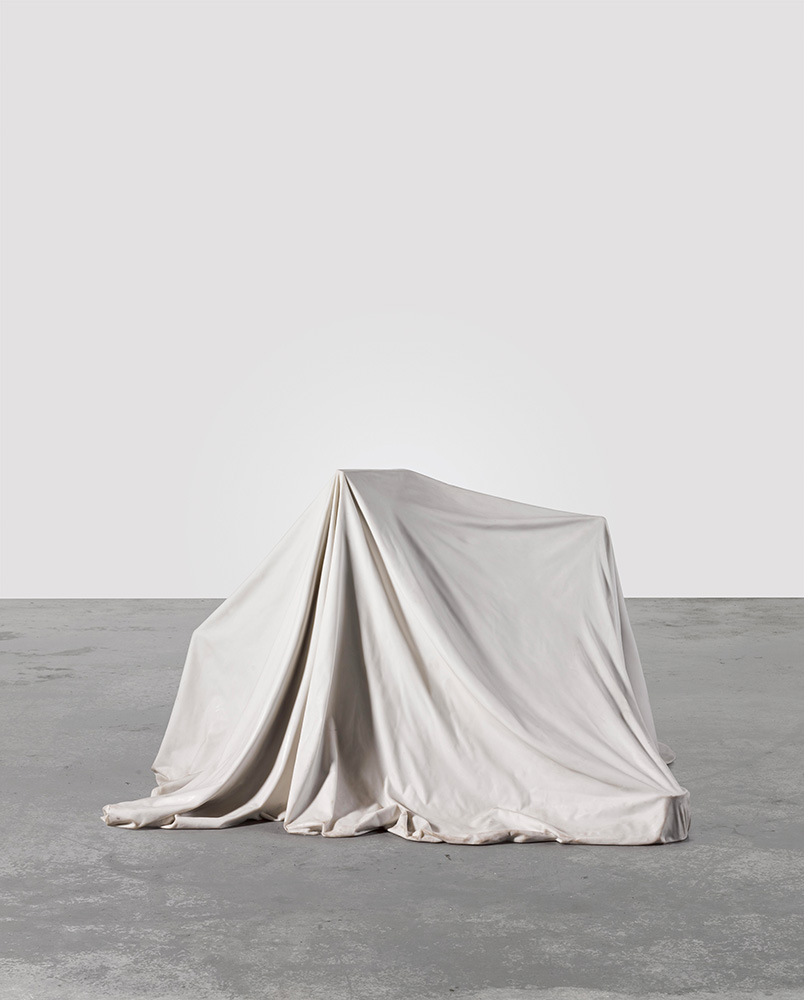 I is… (i), 2012
Cast marble
96 x 165 x 122 cm
Collection of contemporary art