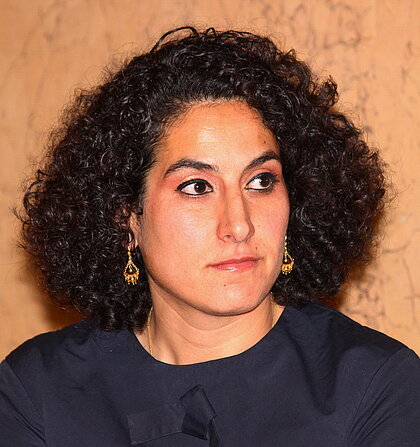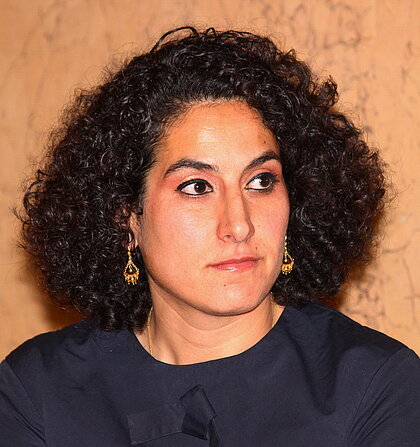 Biography
Shirana Shahbazi was born in Tehran in 1974. She studied photography and design at the Dortmund University of Applied Sciences and Arts, and photography at the Zurich University of the Arts. She now lives and works in Zurich. Shahbazi was awarded the London Citibank Prize in 2002 and a Swiss Government Excellence Scholarship in 2004. She also took part in the 2005 Venice Biennale.
Her work has been shown in many art institutions worldwide, including MoMA in New York (2012/2013), the Fotomuseum in Winterthur (2011), the New Museum in New York (2011), the Hammer Museum, UCLA in Los Angeles (2008), the Boijmans van Beuningen Museum in Rotterdam (2008), the Barbican in London (2007), the Centre d'art contemporain in Geneva (2005), and the Museum of Contemporary Photography in Chicago (2003). Her works can be seen in a number of important collections, including the Tate Modern in London, the Migros Museum in Zurich, and the National Museum of Photography in Copenhagen.
About the artworks
A professionally trained photographer, Shirana Shahbazi shoots portraits, still lifes, city views, and landscapes, but also compositions of pure color surfaces, like backgrounds devoid of any visible subject. Capturing day-to-day moments and landscapes borrowed from Eastern contexts – often with a reflection on contemporary Iran or Persia and its many myths – and Western ones as well, her body of work alternates between representation and abstraction, truth and simulacrum. Occasionally she also reuses her photographs to create wall paintings (executed by Iranian painters who normally do advertising work), posters, and rugs. In short, Shahbazi comes at the genre of photography from a resolutely conceptual angle, questioning the reality that the lens in fact captures by imagining in her displays fictional stories that are entirely cut from the whole cloth.
Playing with the size of her artworks, which are more or less large, or with sudden changes of scale, and transposing photographic images to other supports, she undermines viewers' expectations and explores the complexity of reality and identity. Taking great care esthetically, renewing her displays with every exhibition, she works as if she were doing collage but at the dimension of the entire wall, making each image say something new in keeping with the photograph or photographs placed alongside it. The subjects and scenes run into one another without the viewer being able to make out exactly the places, countries, or origins. Shahbazi's work thus refutes and defeats any precise sense of cultural identity; her images are part of the representation of the globalization of contemporary photography.
Rot-Pink-01, 2007
C-print on aluminum
Ed. 2/5 + 1AP
150 x 120 cm
Collection of contemporary art