Switzerland
Silvia
Bächli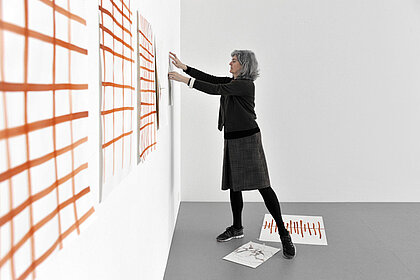 Biography
Born in Wettingen in 1956, Silvia Bächli grew up in the border town of Baden. At the age of twenty, she settled in Basel, where she enrolled at the Schule für Gestaltung. She later continued her studies at Geneva's École supérieure d'arts visuels. In 1996, she put together a solo show at Bern's Kunsthalle, her first "international" recognition and an event that raised the visibility of her work. For over twenty years, until 2016, she taught at the Staatliche Akademie der Bildenden Künste in Karlsruhe.
Today she divides her time between Basel and Paris. The recipient of many prizes, including the Meret Oppenheim Prize (2003), the Contemporary Drawing Prize awarded by the Fondation Daniel et Florence Guerlain, the Visual Arts Prize of Baden-Württemberg, and the Hans-Thoma-Preis (2007), she was the winner of the 2014 Kulturpreis of the City of Basel.
About the artworks
For forty years now Silvia Bächli has been developing a sensitive body of work on white paper in a range of different formats, qualities, and tonalities, and done in Indian ink, charcoal, gouache, or oil pastel. Her work is mainly made up of drawings that are purely abstract or show figurative touches, and involve a palette that runs from pale gray to deep black. In her practice, the slightest detail counts, from gaps to fragmentation, highlights to the shadows of things, the intensity of the color or the thickness of the line to the way that that line is drawn. As an expression of movement, her line, be it floating, figurative, or repetitive, rhymes with spontaneity and immediacy. A quiet, intimate art, her work boasts both isolated pieces and wall installations that comprise several drawings, creating image-rich dialogues combined in displays that are as sensitively thought out as their lines are freely set down on the paper.
The artist uses her body, life, story, and surroundings as her starting point. Her almost ritual method has hardly changed since the 1980s and plays out in several phases. An initial spontaneous almost automatic creation of images boasting simple forms is then followed by a rigorous selection of drawings, the most essential ones according to her eye. And when it finally comes time to hang the drawings, the last stage in her creative process, Bächli chooses either to present her drawings as isolated pieces, or to integrate them in mural compositions. The link between the works and the surrounding space is decisive; the white of the walls should indeed be understood as a binding agent that unites them in an open organic atmosphere, just as the silences matter in music.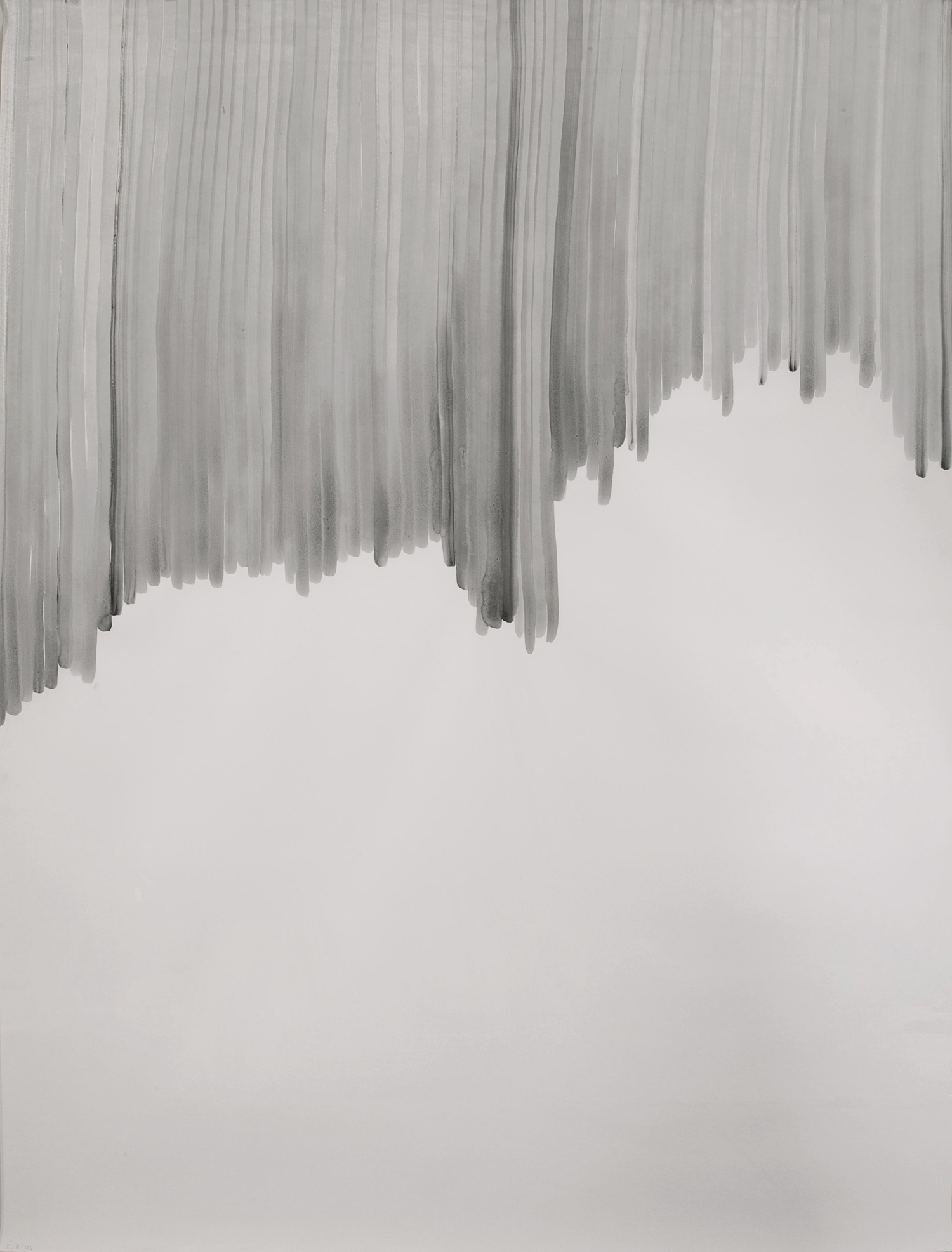 Untitled, 2005
Gouache on paper
199 x 140 cm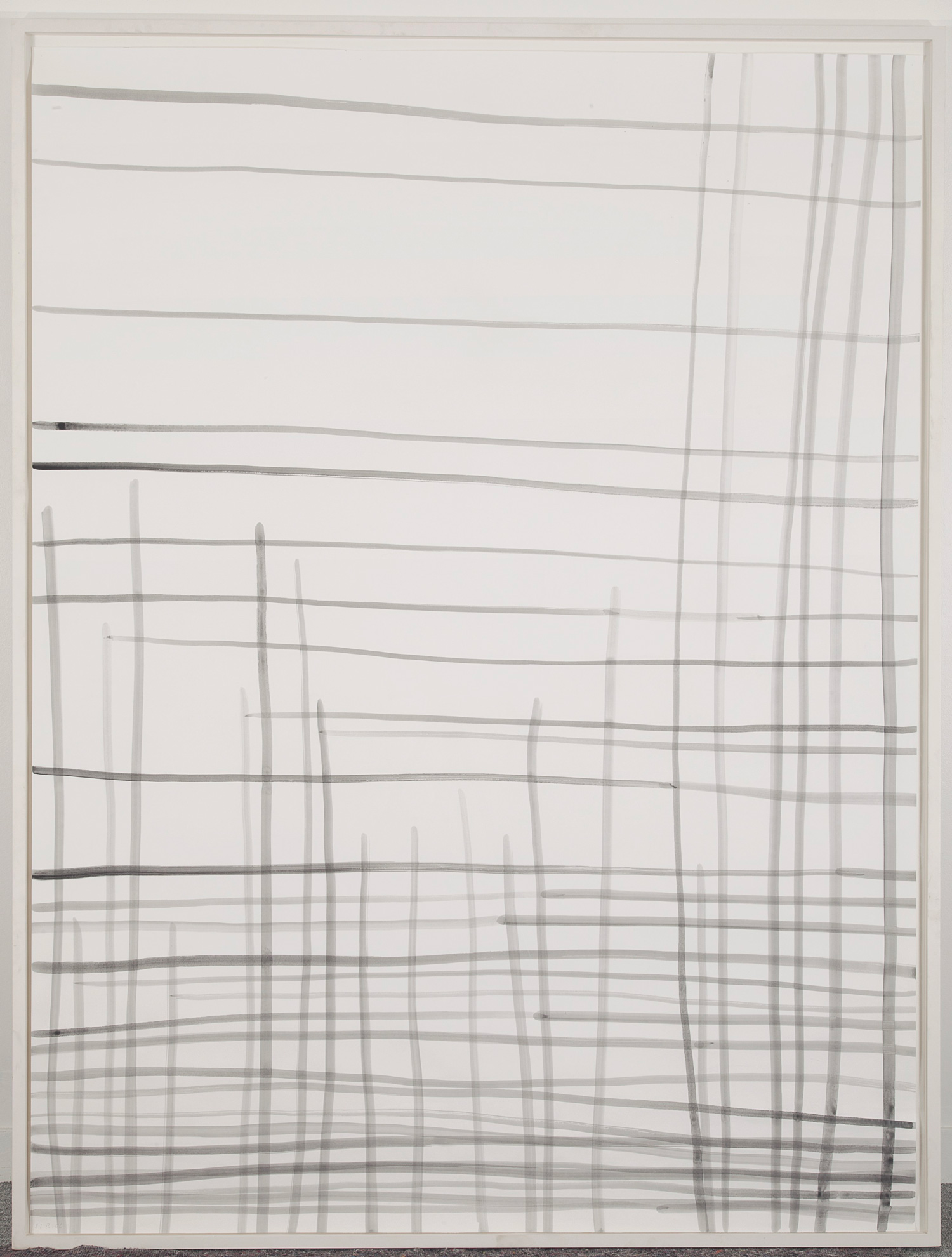 Linien 31, 2006
Gouache on paper
200 x 150 cm
Collection of contemporary art