Switzerland
Sylvie
Fleury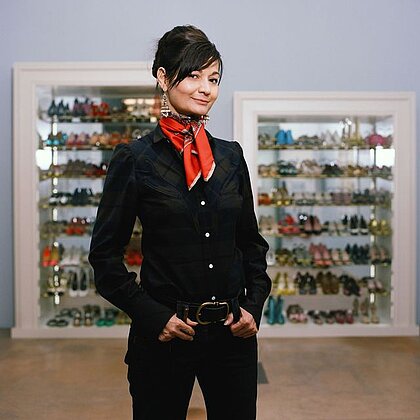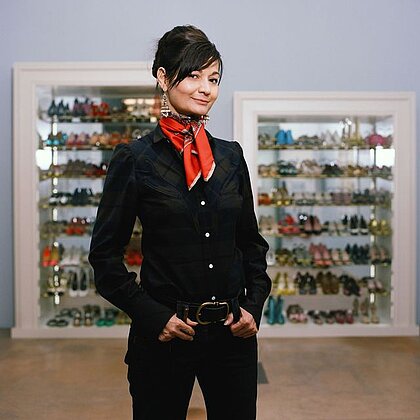 Biography
Celebrated in her native Geneva and beyond, Sylvie Fleury was born in 1961 and worked as assistant to John Armleder. In 1990, he invited her to exhibit at Galerie Rivolta in Lausanne. Shortly after that, she showed her work at the Venice Biennale. A show at Le Magasin in Grenoble followed in 2001. After a first solo show there in 1996, MAMCO in Geneva put on a retrospective of her work in 2008 – 2009.
The CAC in Malaga (Spain), and the Art Sonje Center in Seoul (South Korea) have also exhibited her work. She has designed posters for various Swiss institutions, including the Opera in Lausanne and the Montreux Jazz Festival. Her work is held in major collections such as MoMA, New York and the Migros Museum in Zurich. In 2015, she won the Prix de la Société des Arts de Genève, which came with an exhibition at the Palais de l'Athénée in autumn 2015. She received the prestigious Swiss Grand Award for Art/Prix Meret Oppenheim in 2018.
About the artworks
Consumer society has been an inspiration to many artists. Sylvie Fleury explores its symbols, their resonance in terms of fashion, luxury, femininity and power. Lipstick, shoes, handbags, cars and shopping trolleys are some of the objects that she has used and highlighted in her work, whether in installations, photographs or sculptures. Oversized, enriched with pink, gold and silver tones inspired by make-up, they stand as icons of our contemporary world, a world steeped in images from television, cinema and advertising. Fur, paste glitter and mirrors are among the materials used by Fleury for their evocation of glamour. Her famous Shopping Bags consist of piles of these thick paper and cardboard branded bags which are like mushrooms that have sprouted suddenly in the corner of the room. Neon is another frequently used medium. She deploys it for short slogans in English, designed for maximum intelligibility.
One of her favourite phrases is "Yes to All", which she presents in various forms and on various supports. It appears, for example, on the roof of a building in the Plaine de Plainpalais, Geneva, where it plays on several levels of interpretation, allegorising an attitude that wavers between positive pleasure and submission. Be Good, Be Bad, Just Be acts in the same way. Here, the words from the slogan for the Calvin Klein perfume, CK Be, are spread over metal barrels. The neon wording adds extra value to the recipients, objects whose value normally depends on their contents (petrol, oil, water), and which here could be empty or full. Influenced by great figures of contemporary art such as Mondrian, Fontana, César and Vasarely, Sylvie Fleury goes beyond the superficial symbols of our society : her work invites us to reflect, to dream, to escape and to play, while raising numerous questions about our contemporary world.
Cuddly Painting, 2017
Synthetic fur
100 x 100 cm
BE GOOD, BE BAD, JUST BE, 2010
3 lacquered steel barrels,
grey metallic paint and red neon
180 x 130 x 80 cm
Collection of contemporary art