Switzerland
Ugo
Rondinone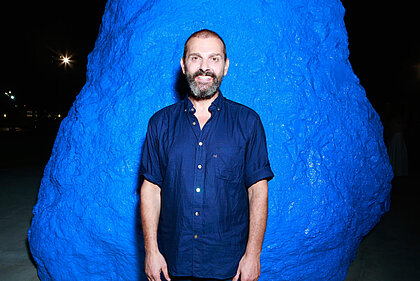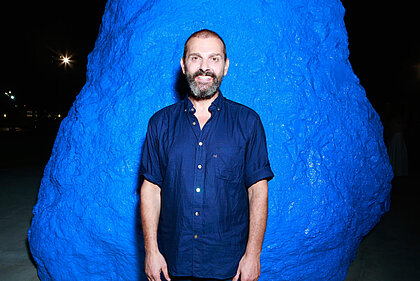 Biography
Born in 1964 in Brunnen, Ugo Rondinone lives and works in New York. He is currently one of the most important contemporary Swiss artists with an international profile. A graduate of the Hochschule für Angewandte Kunst of Vienna (Austria), since the mid-1980s he has been developing a multiform body of work – sculpture, painting, photography, video, poems – which is frequently shown around the world.
The Musée d'Art Moderne de la Ville de Paris (1995), the Migros Museum für Gegenwartskunst in Zurich (1996), the Consortium in Dijon (1997, 2004), P.S.1 (2000) and the Swiss Institute in New York (2002), Vienna's Kunsthalle (2002), the Museum of Contemporary Art in Sydney (2003), the Pompidou in Paris (2003), London's Whitechapel Gallery (2006), Aarau's Kunsthaus (2010), and the Rockbund Art Museum, Shanghai (2014) are some of the many institutions that have presented solo shows featuring his work. He also represented Switzerland at the 2007 Venice Biennial.
About the artworks
Over the last twenty years, Ugo Rondinone has focused on the figure of the artist, questioned her or his connection with the world. The image of a sad and silent clown has long been used as a metaphor of the artist – of all artists – as a character at the opposite extreme of the traditional depiction that sees in the artist a hero or star. Centered on humans, their psyche and emotions, his work spins out multiple references to literature, theater, music, and history, drawing the viewer into pieces that are meditative, even hypnotic, and often suffused with melancholy and disenchantment, yet highly poetic. As in many of his works, Rondinone looks to destabilize viewers, getting them to lose their bearings before reality through an oeuvre founded on pleasure and play, dream and escape, and the interiorization of emotions.
As Marc-Olivier Wahler points out in his talk with the artist, "What I find fascinating in your work is that way the pieces have of being transitive. The work exists for itself, is independent, but has that power to put [us] back in contact with things." So it is with The Prudent, a standing figure that is connected with a certain number of similar monumental pieces set up in the public domain, including The Wise, which towers over Place des Deux-Églises in Onex. This ten-meter-high sculpture is inspired by the Stonehenge site (UK), whose imposing stone monoliths and architecture are deliberately borrowed by the artist – the figure's forking legs create a doorlike opening. In his way he updates a colossal Bronze Age construction that displays an unparalleled feat of group engineering, given the size and weight of those blocks hewn from the "oldest organic material in the world."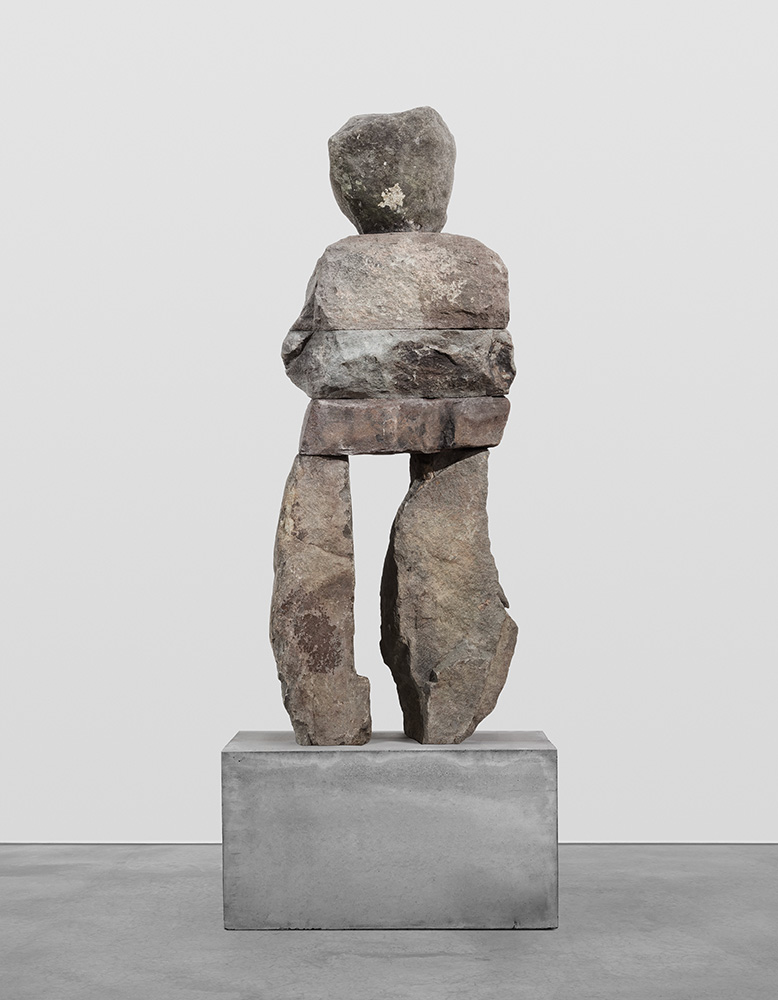 The Prudent, 2016
Stone, steel, concrete pedestal
H. 187 cm
Collection of contemporary art